By Alice Hickman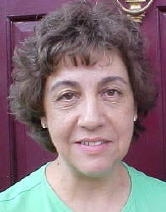 "R-i-n-g"
"Hello"
"Mom!" "We took the girls and went bowling last night." "We stopped to eat and guess who was sitting next to us?"
"Who", I said.
"Jessica", my daughter's voice sounded back.
"Jessica who?" I asked.
"Jessica Lynch!"
By this time my mind had cleared and I listened as Lisa told me about their evening out in one of our nearby cities. They had stopped for dinner at a favorite restaurant. As Lisa returned to her table and waiting family with her plate, her husband asked, "do you know who is sitting next to us?" Up to this time she had noticed someone in a wheelchair, but had not paid any attention.
"No way", Lisa said. "Yes mom, it really is", answered Courtney. Cara immediately confirmed it with authority and excitement in her voice.
They resisted the "urge" to rush her and ask for an autograph.
This was one of those times when silence was better!
Dinner continued, tasty and pleasant.
As Jessica and her party arose to leave, she looked at them and they exchanged sweet smiles and softly spoken "Hi's".
"And that is where the heart is"
(As the Lynch party was leaving it was heard said that the leg propped up in the wheelchair was due to another recent surgery)