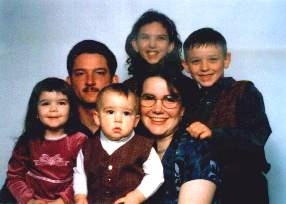 The Stewart Family
By Suzanne Mazer Stewart
MSZFROGGIE@aol.com
It's another cold and snowy day here in Frogpond. This Winter, we've seen our share of mellow, mud-filled weather. We've also seen enough snow and ice to keep the Tadpoles' sleds permanently leaned against the front porch wall, and their hats and mittens in use enough to lose at least two pair a week. I, personally, enjoy this kind of weather. It's sunny enough to give the chill some cheer, yet wintry enough to produce some wonderfully enjoyable times.
As adults, I believe we sometimes forget what it's like to be a kid, to see the world through a child's eyes. We see the snow and ice as hindrances to our travel, as obstacles to overcome on our way to work or shopping or whatever our busy duties require of us. Live in a house with six kids, though, and it takes on a whole new meaning. It becomes a source of wonder and fun, of waging war against your sisters and of creating art out of water. It becomes a source of memories, both newly-made and treasured.
Our youngest daughter awoke the other morning gasping, oohing and ahhing over the night's deposit of white "frosting" on the trees outside her windows. Our youngest son can't wait to go "thledding" (still having problems with those "s" sounds, by the way) and starts bouncing at the first flake. The middle and oldest son have become military geniuses, designing and creating redoubts, forts and other sundry snow structures, to protect themselves from their older sisters' onslaughts of snowballs. The girls' snow sculptures and frost "paintings" on the car windows are truly things of beauty. Yes, Winter seen through the eyes of children makes it a truly magical time of year.
What makes it especially enjoyable for me is to the joy and wonder in their faces. Their rosy cheeks and noses smiling brightly as they come through the door after another afternoon locked in snowy combat or artistic pursuit are sights to warm my heart quicker than the roaring fire in the hearth ever could. And then there's the smell of hot chocolate. You see, in our house, it's a tradition that playing outside in the cold and snow is cause for steaming hot mugs of cocoa. Sometimes we spice it up with a bit of cinnamon or stir it to submission with candy canes left over from Christmas. No matter what, though, every child will tell you that cocoa isn't cocoa without marshmallows. Those little white globs of pure sugar may make a mother shudder any other time of year. But cocoa season, though, just isn't complete without them. And cocoa with marshamllows, it seems, isn't complete without stories of Winters long past.
Daddy Frogpond likes to tell the one about the time he and his brother went 'tubing down a slate pile, only to find the drainage ditch at the bottom wasn't as frozen as they thought. The Tadpoles beg for the one about the time Daddy threw them over the fence into the snow drift, to disappear in the three foot deep drift on the other side. I have my own story to tell, about the calf born into the freezing waters of the creek, to be brought home on the sled by my brother and I, only to have it revive in front of the stove and break the "good lamp" in our front room. Now, I'm not saying that without cocoa and marshmallows, these stories might never get repeated. I'm also not saying that EVERY cup of cocoa is accompanied with tales of the past. I'm just saying that there is something magical about a good roaring fire, hot steaming cups of marshmallow-frothy cocoa and the smell of mitten drying on the hearth that brings the past to life. I see the magic in my children's faces. I hear it in their voices. I cherish it in my heart.
So, the next time it snows and you're about to complain, make a snowball or two instead. While your gloves dry and your nose warms, fix yourself a cup of hot chocolate. Hopefully you'll have some marshmallows and memories to go with it.