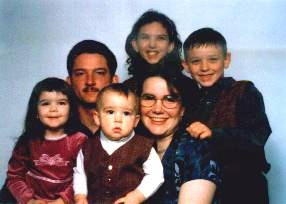 The Stewart Family
By Suzanne Mazer Stewart
MSZFROGGIE@aol.com
Apparently, nobody reads the Herald's archives anymore. The evidence, or lack thereof, for this comes from the once-again pitiful performance by the menfolk in regards to Valentine's Day. I would think, by now, you fellers could take a hint or at least a piece or two of sound advice from this column in regards to this matter. I guess not. Judging by the letters I've received from the ladies in and around Hur, Big Puf, Frogpond and other diverse locations, you men need a good ol' fashioned rolling-pin-upside-the-head whupping. Ladies, consider it done...
1.) When asking for her hand in marriage, it is not only appropriate but expected to provide the lady of your affections with a ring. I'm talking a genuine fake diamond or nothing, got it?!? Larry, poor MaryAnn's finger is still all sore from having to pry off that Budweiser pull-tab Monday night when she got home.
2.) Cletus, given the weather lately, BeckyLyn was not expecting you to wash your truck before you picked her up. However, if you're gonna sneak a pan of her Mama's fried chicken off the stove, you should AT LEAST wipe the mud off your boots before traipsing all over the clean kitchen floor. Oh, and she'd like for me to tell you that ordering just a salad at the Steak and Shake didn't fool her a bit. You're not on any diet. She knows you either weren't hungry from all her Mama's cooking OR you were just trying to save money. (BeckLyn, my bet's on the latter of the two.)
3.) Jimmy Joe, if you MUST recycle presents bought for old girlfriends, the very least you could do is to NOT use the personalized stuff. If you're wondering why Sarah Jane hasn't taken your calls all week, it's because the necklace you gave her looks suspiciously like the one you bought for Jenny Sue. And, no, putting it on Sarah Jane backward wasn't exactly the brightest idea you've had, son.
4.) Arlie, Arlie, Arlie ... Now, boy, you would think after dating Jimmy Joe you wouldn't have to try very hard to impress Jenny Sue. However, Jen and I are left wondering just WHAT was going through your mind the other night. You had promised her a quiet, romantic evening, with dinner and a movie. Chili cheese fries from Mabel's Diner and "Rambo III" on DVD doesn't come near to fitting the bill. And let me tell you something else, too, for poor sweet Jenny - smacking her hand away when she reached for the last fry didn't score you any points at all! Don't be surprised if Jimmy Joe starts looking mighty good to her, again.
And last, but certainly not least, to all the boys of the Frogpond Fraternal Order of Polliwogs ... You might want to get a new toast master before next year's Valentine's dinner. Proposing a toast to "Wives and Sweethearts" would have, should have, really, been enough. It was NOT necessary to follow it up with "May they never meet." It was REALLY not necessary to follow THAT up with a hearty, resounding "Amen!" either.
So, gentlemen, with Easter and Mother's Day both right around the corner, you have more opportunities to get it done right. And, IF you are out of the doghouse by then, you might just stay out. Otherwise, ignore this column as you have apparently ignored others in the past, and it'll be "Move over, Ol' Red, he's moving back in ..."