By Alice Hickman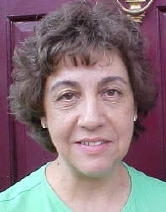 Recently, coming across a publication of The Grantsville News from 1979, I read a story about the broom factory which was "once tucked away on West's Knob in Nobe country", run by two brothers, Thomas and Robert West. In the late 1890's or early 1900's this small, highly localized industry supplied the surrounding farm communities with all the brooms needed. Local raised broom straw was sorted by hand into small bundles , sewn by machine into shape and bound with wire, twine and staples onto each broom stick. For this service, the farmer paid one dollar. It took one hour to complete the task of making one broom, according to Robert West, and the most ever done in one sitting was 80 brooms a man. This practice was then a part of everyday life. Once machines were developed, men like the Wests were more able to supply a whole community with the brooms it needed at the West Factory.
In the mid 1950's my family, the Jennings, moved near the West Knob. At that time that knob was part of the West farm on Nobe Road, owned by Bob and Earnie West.
My mother, Mae Jennings and Earnie West, wife of Robert (Bob) West became great friends and many times I would accompany Mom when she walked part way up the hill and around the meadow to the West home. Often we would stay until late night, I sitting and listening to the old stories or laying down on the sofa and going to sleep. When Mom was ready to go home she would wake me and we would begin our walk home in the dark with a flashlight. I was always glad when we got passed the barn. I think I had listened to too many stories about the life and times of Nobe ridge and the huge barn looming against a dark sky with a full moon seemed to come alive.
In those days the valley between the Jennings' and West homes was open. Wests had a telephone, but the Jennings did not. If Earnie had a message for us, she would hang a white cloth on the end of her porch. When we saw it waving, Mom would holler across the valley and get the message.
The Wests raised cattle, chickens and a garden, as did many Nobe residents of the time. Homesteading is now a disappearing way of life for most of West Virginians.
Today, we still live at "West Knob" just across the "holler" from where Bob and Earnie West lived, but it is now known as "Cabbage Knob". To all of us who knew Bob and Earnie, it will always be "The West Knob", located about 1/2 mile on Nobe road from Rt. 16 at Five Forks.