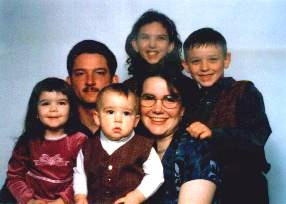 The Stewart Family
By Suzanne Mazer Stewart
MSZFROGGIE@aol.com
Christmas 2004 has come and gone. It arrived too quickly, and too quickly it is over. This was the year that Christmas in Frogpond almost didn't happen. The parts of Christmas that DID happen were tinged with a bit of strangeness, a touch of the frantic. Perhaps that's to be expected when you have a flock of children in the house. Maybe I wasn't organized well enough. I don't know. All I do know is that between the catalog shopping catastrophe, math exercises and the operatic cow, Christmas preparations were anything but a joyful, peaceful time ...
It really all started back in September. That's right, you heard me - September. I went to a meeting of the children's teachers at church and walked out Director of the Children's Dept. Along with scheduling the other teachers, ordering enough crayons and glue to fill a bathtub and making sure the Kool-Aid supply never runs low, it is the Director's sacred duty to DIRECT the Children's Christmas pageant. Easier said than done, to be sure. We chose a wonderful little play, with the Christmas story told from the viewpoint of the animals present in the stable that blessed night. At one point in the production, each animal or group of animals sings a song for the Baby Jesus, trying to comfort His crying. I lost a great deal of writing-time-Sundays trying to teach a six-year-old cherub dressed as a cow how to sing "I Saw Three Ships." She ended up doing it in the style of a true diva - opera diva, that is. Then there was the rest of the cast: the rap-singing, hip-hop dancing camel trio, the donkey with the Garth Brooks attitude and the Grampa Jones voice, the surfer-dude sheep and the mouse who kept singing the same verse to "Joy to the World" over and over and over and over ... Let's not forget that in all my flurry of pre-performance duties, I forgot to put Baby Jesus in the manger. (Lest that should ever happen to you, take my advice, DO NOT ask the 6'5" pastor to "sneak" the baby doll into the Nativity scene. Not unless you can afford to lose an angel or two.) Oh, well, there's always the encore performance this Wednesday night to get it right ...
Let's jump forward to October, shall we? I got this brilliant idea to complete as much of my shopping as possible through catalogs and the wonders of the internet. I figured I could just let UPS, FedEx and the mailman do the "Santa" thing for me, right? So, I sat down and figured out what I wanted to get everyone on my list. Then, I filled out the order forms, popped them in the mail and waited. And waited. And waited. The first thing to arrive was a notice informing me that over half the items I had ordered from my brand-new Christmas catalog were no longer in stock. Then came the cancellation notices. I got more rejections with my Christmas orders than with my last novel. Let's sum it all up by saying I spent the ENTIRE week before Christmas out shopping. I was up until 4 am Christmas Eve wrapping presents that should have arrived via mailbox, not the mall. Oh, well, according to the notice I received that evening, the last two presents will be shipped December 29th ...
OK, that brings us to November. I'm still waiting on Christmas presents, receiving back-order notices and teaching cows to sing. I'm also adding another tadpole to the pond and trying to figure the poundage on turkeys. I told you before about our foster son. Well, it seems he had a little sister who needed a good home, too. So, we now have six little (and not so little) young'ens in the house. (They say love grows best in a small house. It should be blooming here.) The lily pad has reached its limit - there's no more room at our inn. There's a lot of mental math involved in raising six kids, by the way: the 25 loads of weekly laundry, how many dentist appointments can be completed in one hour, the seating for 8 at the table, the amount of turkey needed to feed 3 teenagers, 4 adults and 3 smaller people with enough leftover to fix my famous "After-Thanksgiving Soup." We had a great deal to be thankful for, including the new mother-in-law and sister-in-law Granddaddy Frogpond provided us with. (Wedding funny: youngest tadpole approaches the bride, pulls on her skirt to gain her attention and then in his best Jerry Lewis voice announces, "Hey, lady! You just married my Granpaw!" as if she hadn't noticed ...)
December followed too closely on the heels of Thanksgiving. Things have reached a frantic, harried pace. There's TONS of shopping to do, unexpectedly. There's TONS of cookie and fudge to make (Do you know how much Christmas goodies it takes to satisfy 6 kids??) There are basketball games, Christmas concerts and parties, math lessons and singing cows to contend with. I have to admit that I lost it somewhere along the line. Not my sanity, mind you, but Christmas. I got so caught up in the have-tos and must-dos of the time leading into the holiday that I lost sight of the reasons for the season. Looking back, I feel a little saddened that I was unable to appreciate and enjoy what is usually one of my favorite times of year ...
I've made a promise to myself not to let it happen again. Call it an early New Year's resolution. Call it a survival technique. Call it whatever you will; I call it a crime not to truly celebrate Christmas. Not just the day, but the whole season. The old folks had 12 days of Christmas, from the 25th of December to the 6th of January. I always thought that was a bit strange, but not this year. I'm going to take the coming days and do some celebrating. Oh, sure, there will still be laundry, basketball, cookies, fudge and at least one more venture with the singing cow. However, I plan to approach it all with a new attitude. Not one of have-to and must-do, but one of happiness and fun. The Christmas that almost wasn't is going to become the Christmas that IS. At the end of that classic book "The Christmas Carol," Dickens wrote that Scrooge had learned to "keep Christmas" in his heart all year long. This year, I'm going to give that a try ...