By Jack Cawthon
Barbecuerun@aol.com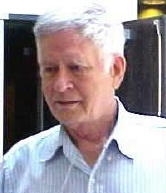 I'm not sure my heart will stand many more elections like the past one. Viewing all those negative ads; straining until the wee hours of the morning to stay awake while awaiting the outcome; and then listening to all the gripes by the losers that there was voter fraud. No, this wasn't the state or national contests; my whole concern was vested in the Tri-Holler Region, with Big Puf as its metropolitan center. State and national candidates are viewed as not a dime's worth of difference as to the winner; the Tri-Holler remains neglected by whoever wins.
This year, the big battle in Big Puf was between Bobby Gene (Per Diem) Bubba, incumbent delegate, and Alf (Relative) Hanshaw. As far as voter name recognition, Bubba is second only to Gainer in the region. But Hanshaw, running with the designation of "Relative," counted on his many kinfolk to cast their ballots, in the plural, to turn the tide.
There was a huge voter turnout, even by Big Puf standards, with 167 percent of the registered voters voting. Some elections have seen less that 100 percent turnout, but those generally involved school bond issues.
Bobby Gene has always had major support among what he calls the "Lazarus" vote. When questioned about what some might view as a grave issue, Bobby Gene sees it as a dead-end positive. He has declared that his record has been so divinely inspired that even "before the Great Trumpet sounds for Judgment Day, the dead shall arise in my triumph over sin." Some say he may equal the late James Manchin, if not in stature, then in vocabulary.
Hanshaw, on the other hand, claiming that was he who was sitting on the "Right Hand," seemed to think that it was a dead issue when compared to his supporters, who always became noticeably alive in his behalf when he presented them with a pint of Old Al Hag. This, in turn, brought about a complaint by Bubba of illegal campaign financing. All of this ended, except for the insults, early in the past election morning, or mourning, by the losers. Bobby Gene squeezed through by a tiny margin amid rumors that his win came from the Big Puf Mountain Hunting and Drinking Club, whose members had been assured of a new clubhouse with money from the Budget Digest. Some of those members were counted among the dead, as they had been dead drunk since the last hunting season.
One other close election pitted two bitter rivals for the post of County Surveyor. It matters little that no one really knows what a county surveyor does, and that the job, or whatever, pays nothing. Alvey (Plumb Bob) Pratlow and Harvey (Shybubbles) Hanshaw both presented themselves to the voters as able and willing. (God-willing not, some were heard to say.) By this time, most readers may have assumed that there are two major clans in Big Puf, the Pratlows and the Hanshaws. This is a relative matter of fact, and it must be accepted that outside blood is suspect. Not only that, but it may be spilled to prove the point. Arley Cleeter is tolerated because he came from Pennsylvania, burns books for winter heat, and is pretty much a loner, enough peculiarities in their own right to qualify him for residency. I am tolerated, also, although for the life of me, I can't figure out why.
The surveyor candidates traversed the issues and squared off at each other with rebars and brush cutters. Plumb Bob Pratlow took an early lead, as he had surveyed many tracts in the area. He always assured the parties hiring him that they would gain acreage, as deeds were worded "more or less." He interpreted that clause as meaning "more." Numerous boundary disputes arose over the years from his definition, but most were settled in the established tradition by shootouts.
Shybubbles Hanshaw, on the other hand, named for never having a level bubble on his transit, or some thought shy himself a bubble or two, had his own following. When deeds called for a marker of a tree or a rock, such points had a way of always falling in the right location for his parties, as if by a fate of nature. One classic case of this nature involved Big John Hanshaw, of course, a relative, as he wasn't a Pratlow, although some folks said he MIGHT be, but it is not my attempt here to establish bloodline, was awarded by survey 114 acres from a deed conveying 57, more or less.
With two relative factions involved, ballot commissioners weren't about to declare a winner, as they were also evenly divided by Pratlows and Hanshaws. Both men were designated county surveyors, and still no one knows what a country surveyor does. But both are available for public hire. I would advise anyone contracting either one to first check adjoining landowners and choose the best one connected, relatively speaking. Also, a loaded rifle might be made handy as sometimes one must defend his title.
Has anyone heard who the winners of the state and national elections are? Big Puf wasn't considered a "a battleground" region by either party. That's how little outsiders know!
(Disclaimer: Some ages back, I wrote a column for the West Virginia Hillbilly which may have presented land surveying as less than a noble profession. I was taken to task by a surveyor person who threatened to do bodily harm to me, which had something to do with a plumb bob swung over a designated point, which I didn't fully comprehend at the time, but looking back, may have been something I might have enjoyed. It may have been something I said that was considered politically incorrect, although saying she had too many curves to run a straight line seemed appropriate at the time. But I meant no disrespect to the profession. Some of my best friends have been surveyors, especially those who interrupt "more or less" as "more" in my behalf. Should anyone reading this, even surveyors who have trouble viewing their plumb bobs through swinging pendants, take offense, I can only say it is all in the manner of good-natured fun. At least, it has been fun for me.)