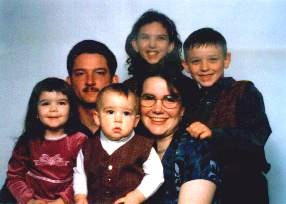 The Stewart Family
By Suzanne Mazer Stewart
MSZFROGGIE@aol.com
The family dinner hour. The phrase conjures up images of freshly scrubbed children sitting up straight and tall, anxiously awaiting Mother's finest culinary creations, while Father initiates the most scintillating conversation ever known in the annals of dining. Yeah, right! Dream on, oh great one!
At our house, family dinner hour is always an adventure. And no, I' don't mean my cooking. I'm referring to my family's knack for turning any meal into something between a natural disaster and a three-ring circus. Put 5 kids, ages 3 to 14, around a table and things are bound to go awry at times. Add in a father with the mind of a criminal genius, or at least a juvenile delinquent, and you know you're looking at trouble. It's a wonder I haven't gotten an ulcer, eating with my crew.
Take, for example, one Wednesday's lunch not too long ago. During "school time," I'd read a story to the little ones about a girl and her grandfather who chase some bees to their bee tree and collect the honey. Silly me, I decided to serve them raisins with their lunch. The next thing I know, instead of raisins going into little tummies, they were flying through the air, accompanied by distinct buzzing noises and cries of "Look, Mama! They look just like the bees in our book!" Daddy's comment when he got home that evening: "At least they seem to be enjoying their learning." (Insert heavy sigh here, please.)
Or how about the time our darling oldest daughter ate her barbecued ribs without getting a single drop of sauce on her clothes, but proceeded to smear a whole line of it across her forehead somehow. Or the time when middle son dumped his whole plate on the floor trying to butter his biscuit. And let's not forget the disaster that befell the chicken and the tablecloth when the boys decided to serve themselves the drumsticks. (Another heavy sigh, please.)
The antics aren't just limited to the children, either. My husband has spent long years in the male-dominated world of barracks and squad cars. He has talents that can only truly be appreciated among the testosterone set. No girly-man, he. He can burp the entire alphabet if fueled by a really good brand of root beer. He makes noises while slurping spaghetti that would make a mafia boss blanch. His comments about rice, beef gravy and pea soup would make even the most stalwart souls lose some of their appetites.
Don't let me forget the mashed potato problem my husband seems to have. It would appear as though no dinner containing mashed potatoes is complete without someone's face in it. My kids don't eat their mashed potatoes first because they like them THAT much. It's a measure of self-preservation. Daddy's gonna smoosh somebody's spoonful of spuds up their nose or in their ear when they least expect it. No matter how far away they try to sit, or how fast they try to eat them up, Daddy still gets somebody, somehow. I've even been victimized a time or two. (Insert another heavy sigh accompanied by slow shaking of head, please.)
Then there's the famous flying french fries incident. When you have to feed 7 people, the amount of food necessary is, well, let's just say every meal is a "big" one. Especially if they REALLY like what I'm serving. This necessitates preparing a basket of fries the size of Rhode Island. Now, a basket this big is difficult to pass around the table. So, whoever is next to it is designated Fry Server. Well, one night not too long ago, hubby decided it would be much more fun to be a Fry Flinger. He started innocently enough - picking up a fry that had dropped on the table and tossing it onto the outreached plate. That was so much fun, he decided to try getting them on the plates from the other side of the table.
Now, my husband has spent a great deal of time learning to aim and hit various targets. Unfortunately, that skill is not genetic. By the time the kids were done flinging fries back at Dad, the table looked like an Ore Ida nightmare. And whoever threw the ones with ketchup already applied has yet to come forward. I think it's due less to cowardice and more to a lack of desire to wash down the crown molding in the dining room. (Sympathy cards may be sent, but a good maid who isn't afraid of heights would be more appreciated.)
So, the next time you're sitting there, enjoying a nice, quiet, peaceful meal with your family and thinking how dull and boring the whole thing is, give a little thought to me. I'll be the one under the table, ducking french fries. Or maybe you'd like to try Fly Flinging for yourself. Just get used to the heavy sighing.