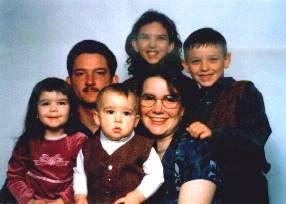 The Stewart Family
By Suzanne Mazer Stewart
MSZFROGGIE@aol.com
I would like to first apologize to my readers, if there are any left, for my lack of reading material lately. LIFE, you know, the big letter version, has gotten in the way a great deal. We've added a new family member to the lily pad here in Frogpond, and any of you with more than one person in the house know what kind of work an adjustment like that can take. Now, before y'all start knitting booties and stuff, let me explain that we've opened up the pond to a foster son, aged 14, who wears a men's size 11 shoe. (Better make those booties big, gals!) He's fitting in quite nicely, and from all accounts from the people who know about these things, doing quite well. I wouldn't know any different, anyway. He's just one of the family to me.
Now I know some of you out there have just about fallen off your seat with disbelief. Like the last thing I need is another person in the house to take care of, right? I've got to admit that I had similar thoughts, but the thought that we might be able to help a child in need of a family was more powerful than the fear of more laundry and dirty dishes. I mean, that was something we didn't have to work at - being a family. We had that one down pretty good, whether the kids want to admit it or not. Sure the girls did concoct that idea to sell their brother at online auction, but all in all, we're a pretty happy bunch.
Family is such a strange thing, and no, I'm not talking about my husband's cousins or my weird Aunt Gloria. You really can't choose your relatives, but it seems to me that most of us DO choose our families. We decide who we will grow close to, and who we'd rather never see pull in the driveway. We sometimes prefer other people's relatives to our own. (Believe me, with relatives like my Uncle Joe, you'd understand.) Friends become family, in a sense. Outsiders are welcomed in and find themselves at home. Our family reunion typically has more of these "family" members than blood relations. We just enjoy their company more.
The holiday season is fast approaching. "Guest" lists will soon be drawn up, if only mentally, showing once again just who we prefer to have around. They really aren't guests - they're family. Oh, it doesn't matter whose blood runs through their veins. They belong to us and we to them. That belonging is the warmest feeling, I think. It tends to bring a glow to the outside of a person, judging by the faces around my table when we all get together.
By now, some of you are wondering if there's a point to all this. It is this - by opening up our family to one of those "outsiders," we've really discovered some things about ourselves as a family. We've always thought of ourselves as a pretty good bunch to hang out with, but when seen through the eyes of another, we've come to appreciate what we've got so much more. The laughter, the love, the good morning hugs and the bedtime prayers are all a part of who we are, not just things we do. We belong to each other, and now, he belongs to us and we to him. Maybe that's why he's doing so well here; he's finally found the place where he belongs. And yes, it shows.