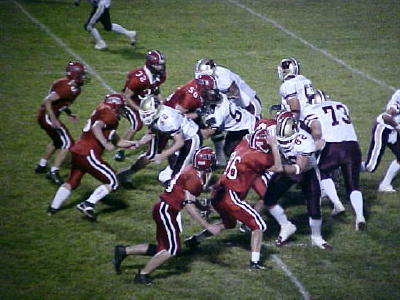 Calhoun goes against top-ranked Williamstown ...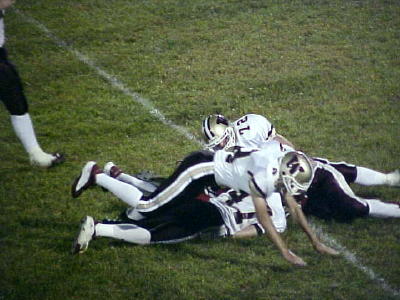 ... but not without a tussle
By Gaylen Duskey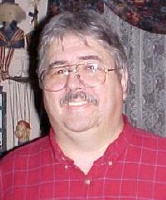 Williamstown looked like the top-ranked Class A team that it is Friday night with a workmanlike 24-6 victory over Calhoun. The Red Devils, playing about as well as they could play, hung tough with the much, much bigger Yellowjackets. But in the end Williamstown's sizeable size advantage was just too much.
Williamstown made things look easy on its first possession as its big offensive line simply shoved the smaller Red Devils around. The machine-like drive, which culminated Corby Anderson's five-yard run up the middle for the score, showed just how dominate the Yellowjackets could be. Yet the Red Devils after that initial drive buckled down and made Williamstown work and fail at times the rest of the way. After a 32-yard field goal by Russell Thom put the Yellowjackets up 10-0.
Calhoun fought back.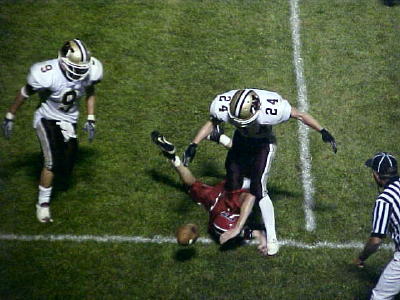 Well, almost ...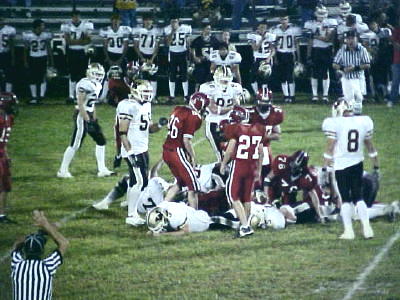 ... but almost, doesn't count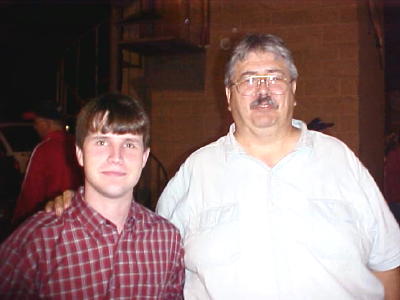 Jason Nettles and Gaylen Duskey,
candidates for assessor, "assess the game"
The Red Devils used a lot of quick-hitters and some trickery to move the ball down the field. They finally scored, ending a five-quarter scoring drought, when Chad Conley caught an eight yard halfback option pass from Paul Goodrich.
The Red Devils moved the ball the next time they got it and threatened to take the lead against the Yellowjackets with time running out in the first half as a couple of passes to Jake Perkins and the running of Justin Price pierced the Williamstown defense.
But Calhoun was unable to score and the half ended 10-6.
That was as close as the Red Devils would get.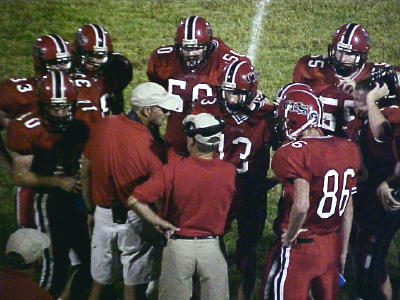 Red Devils work on game ...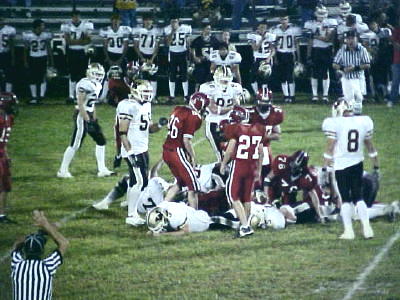 ... and try hard to get on the board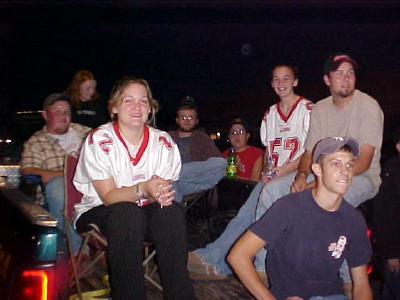 Tailgaters enjoy the game
Williamstown reverted to form in the second half and used is big offensive line to facilitate two long scoring drives which put the game away. Calhoun was not plagued by a plethora of foolish penalties nor was it prone to the turnover - it lost two. This effort would have been enough to beat most teams on the schedule. But Williamstown is not "most teams." It is top-ranked in Class A and there is a reason for that.
Calhoun, now 3-2, returns to action Friday night at Wahama, 4-1.