Submitted by Diann Clothier

Riders would have really have had to go looking for mud Saturday at Ace Adventure's Minden Mudfest Cross Country race - for the first time, the environs were as dry as dry could be, and dust, not mud, ruled the day. WV Mountain Bike Association's 14th Point Series race drew a field of 61 riders looking for those few precious points - there is only one race left (Henry Clay 30K) before the Appalachian Classic Championship race on September 19th at the Calhoun County Park.

The staggered race start allowed the cloud to settle between start classes, and when all was said and done, Team Bon Jovi/WV took 2 1st places and 2 second places. Bryan Fawley, Men's Expert/Pro, and Chris Flick, Men's Sport 19-25 topped their classes - Bryan zipped through the prolog and 2 laps in 2 hours and 3 minutes. Michael Haid, Men's Sport 26-34, placed 2nd , as did Cai Clothier (Junior Sport 14 and under) - finishing on the run, having lost his chain mid-way through the race (No problem - Cai ia a member of the Calhoun County Middle School Cross Country Track Team!)
Chris Flick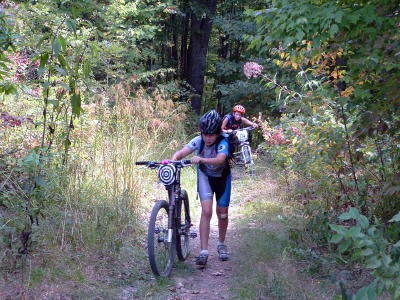 Cai Clothier
Meanwhile, Team Bon Jovi/WV's team manager Steve Thaxton was in Canada at the Master's World Championship. Steve was hoping for a top 10 finish, but placed 13th in the Expert 40-44 class.
The final NORBA NMBS results for the team show Joey Riddle 1st in the XC Expert 25-29 class and 4th in the STXC, Steve Thaxton 2nd in the XC Expert 40-44 class and 3rd in the STXC Expert 30+ class, Jenny Smith with 10th place in both Women's Pro XC and STXC, Clay Evans 29th in Men's Semi-Pro XC and 9th in STXC, Andrew Fetty 28th in the Jr Expert XC class and 37th in STXC, Bryan Fawley 49th in Men's Pro XC and 30th in STXC, and Mandi Riddle 51st in Women's Pro XC and 45th in STXC.
The Team will be sending 3 members to vie for US National Championship titles at the Mammoth Mountain races September 23rd - 26th: Joey Riddle (expert 25-29), Steve Thaxton (expert 40-44), and Cai Clothier (junior 11-12).
Team Bon Jovi/West Virginia is sponsored by Jon Bon Jovi (yes, the rock star!), Worldwide Chiropractic and Sports Medicine, Maple Creative, Charleston Bicycle Center, Kenda Tires. Cannondale, Pactimo, Fetty Intensive Training, Hydrapak, and Curve Socks. Please visit our web site at www.teamwvbonjovi.com for more information and contact information.