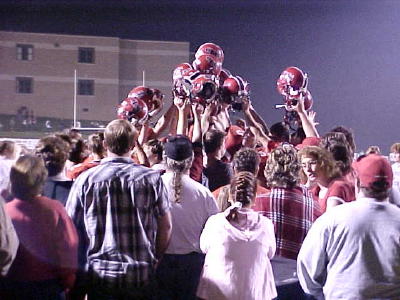 Team celebrates victory in the "winner's circle"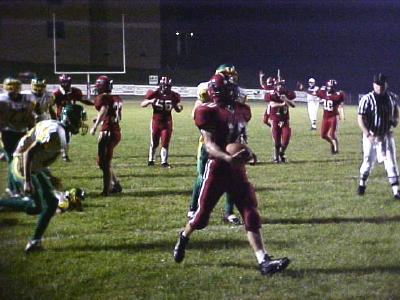 Price seems to be walking the ball over goal line for another TD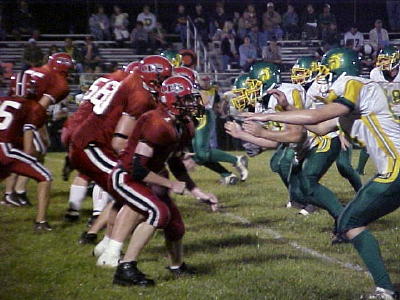 Calhoun thumps Doddridge with a little vengence
By Gaylen Duskey
Calhoun County had vengeance with a capital V Friday night in a 49-12 pummeling of Doddridge County.
In evening the score after a 21-20 "fluke" Doddridge win in 2003 the Red Devils unleashed a crushing defense and Justin Price on the Bulldogs.
By the numbers Price had six touchdowns for the second straight week while rushing for 177 yards.
The defense held Doddridge to one first half first down and five overall (with the last three coming against the reserves).
The game was not as close as the lopsided score would indicate as Calhoun hammered the Bulldogs from the opening kickoff.
Calhoun got on the board midway through the first quarter when Price scored from two yards out. His touchdown was set up by a long run by Paul Goodrich, who had 115 yards rushing on the night marking the second time this season he has topped the century mark.
Calhoun scored twice in the second quarter. First Price tallied on a 40-yard run then he scored on a 15-yard run just before intermission. The second touchdown seemed to knock the wind out of the Bulldogs' sails.
Were that blow not enough Price lit up the Bulldogs on the opening kickoff of the second half with an 90-yard run.
He scored twice more - from 12 yards and one yard - to put the Red Devils on top 41-0.
Following that Bryan Sterns emptied the bench and Doddridge scored two meaningless touchdowns.
Calhoun's final score came on a one-yard run by freshman quarterback Matt Houchin. Houchin hit David Cunningham for the extra point. The final score was set up by a 30-yard interception return to the one by Michael Sullivan.
Calhoun's rushing attack was complemented by the return of the passing game as Mike Batten hit on five of seven passes for 87 yards, including 21 yards on an outstanding over the shoulder catch by Jeff Goodrich.
Chad Conley caught two for 28 yards while Andrew Cummings had one for 21 and Jason Cunningham one for seven.
Calhoun posted the easy win despite losing four (of six) fumbles and committing 10 penalties for 71 yards.
With the win Calhoun goes 3-0 on the season while Doddridge drops to 0-3.
Up next for Calhoun is Clay County, now 3-0 and 12th ranked in Class AA. Clay beat previously unbeaten Valley of Fayette 53-8.
MORE PHOTOS WILL FOLLOWS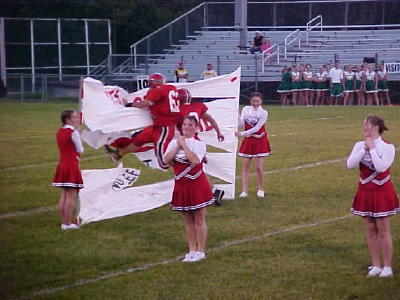 Red Devils open season last night on home turf ...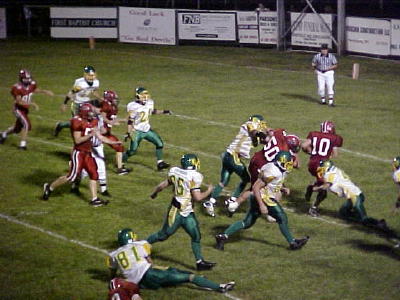 with a lop-sided defeat over Doddridge