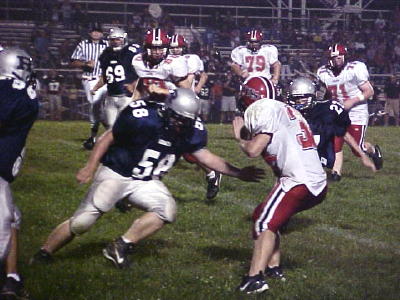 It was action football, Calhoun cruising to easy victory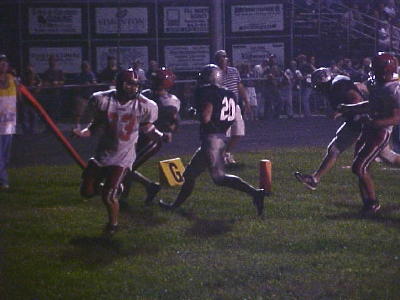 Price and crew moving to the goal line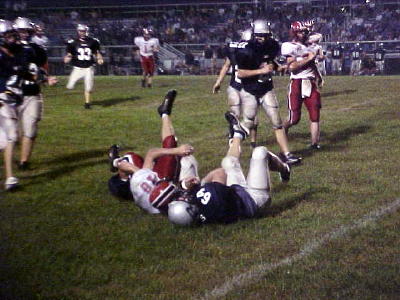 Calhoun will be looking for third win next week
By Gaylen Duskey
The name is Price, Justin Price Remember it. He is Calhoun's legitimate all-state and Friday night he showed why.
How? By scoring six touchdowns in slightly over three quarters of play to lead the Red Devils over Ritchie County by a 41-23 margin.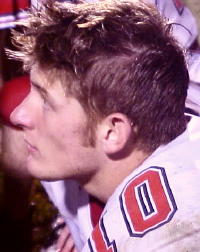 Price (pictured left) had help of course, lots of help. But when it came time for the Red Devils to seal the deal they turned to Price. And seal it he did with touchdown runs of 3, 11, 6, 9, 14 and three while gaining 188 yards on 21 carries.
The game like the season opening 75-18 win over Gilmer County, was not that close.
The Red Devils scored on their first possession on Price's 3-yard run. They scored minutes later on Price's 11-yard run. Following a field goal by Ritchie's Adam Mullenix the Red Devils rolled off two more scores - both by Price - and by intermission Calhoun led 28-3 and the legendary Fat Lady was singing "turn out the lights."
Price gave the Red Devils their biggest lead of the night on the first series following intermission when his 14-yard run made it 35-3.
After trading touchdowns - Calhoun's was the sixth by Price - Ritchie scored two meaningless late touchdowns against the reserves to set the final score.
Calhoun's penchant for penalties both real - seven encroachment penalties - and imagined - a horrible and incorrect roughing the quarterback penalty which gave Ritchie its final score - was the biggest thing that made the game as close as it was.
The Red Devils also had six fumbles but lost only one.
Calhoun, now 2-0 on the season, opens its home schedule this coming Friday night against Doddridge (0-2). Doddridge beat Calhoun 21-20 last season.