Submitted by Diann Clothier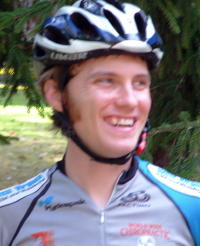 Joey Riddle, Team Bon Jovi/West Virginia's Expert 25-29 rider was in Elkins, WV, Friday, in the heart of the Appalachian Mountain Range, when he became the 1st Place winner of the 2004 NORBA National Mountain Bike Series! The finals were held at the Rocky Mountains' Durango, CO venue on Friday, where Team Manager Steve Thaxton accepted Joey's award for him.
Joey, who was under the impression that he was out of the running for the National Title since he could not race in the finals, was truly excited about his achievement - he said he couldn't sleep at all that night.
Steve Thaxton picked up a few awards himself this weekend, ranking 2nd place in NORBA's Expert 40-44 Cross Country series, and 3rd place in the Expert 30+ Short Track series.
In West Virginia, meanwhile, Team Bon Jovi/WV members thrashed about the trails at Holly River State Park amid swarming hornets and the ever faithful river that won't let a rider pass un-muddied at the 13th WVMBA Point Series Race, the Holly River Revenge. Joey Riddle finished 4th in the Men's Expert class, Mandi Riddle finished 2nd in the Women's Expert class, Andrew Fetty finished 2nd in the Jr. Expert class, Michael Haid finished 2nd in the Sport 26-35 class, Chris Flick finished 2nd in the Sport 19-25 class, Cai Clothier finished 2nd in the Jr. Sport 14 and under class, and Wes Stafford finished 6th in the Sport Vet 35+ class.
Team Bon Jovi/West Virginia is sponsored by Jon Bon Jovi (yes, the rock star!), Worldwide Chiropractic and Sports Medicine, Maple Creative, Charleston Bicycle Center, Kenda Tires. Cannondale, Pactimo, Fetty Intensive Training, Hydrapak, and Curve Socks. Please visit our web site at www.teamwvbonjovi.com for more information and contact information.