By Ann Richards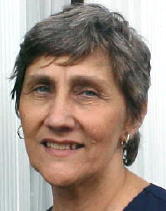 It was Saturday, June 12th. 2004 and, for once, it had stopped raining.
Jim and Bessie Welch dropped by to visit Bronson and Alice Hickman. After talking for awhile, Bronson and Jim decided to go fishing at Stonewall and Jim went home to get his fishing gear.
While Bronson waited for Jim to return, he mentioned that he had caught 30 night crawlers in about five minutes the night before.
I asked if the rain made night crawlers come to the ground's surface, thinking that they can be seen crawling around after a heavy rainfall.
"No", Bronson said. "They come to the surface in mating season."
"When's that?" I asked.
"All year round," he answered, chuckling and stuffing his pipe with tobacco.
"Oh." I said, feeling stupid.
"Why don't you have a night crawler farm?" I asked.
"Because we don't live in the right place to sell night crawlers", he explained.
Besides that, I learned that Alice keeps throwing away his eggshells which has something to do with keeping night crawlers happy.
I was afraid to ask about the eggshells, having been wrong twice already.
I also want to know if there is a difference between night crawlers and earth worms. (Dumb question?)
Sometime, I'll screw up my courage and ask about the eggshells. Right now, I'm thinking this is more about hillbilly ingenuity.