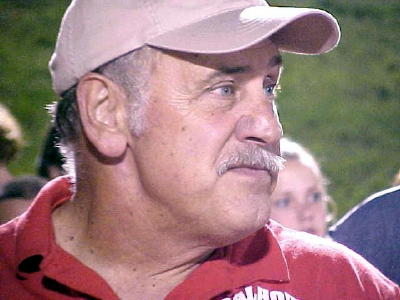 Coach Bucky Stewarts says goodbye to CHS Red Devil football
By Gaylen Duskey
In the final analysis he just felt it was time to take a break.
And that's exactly what Heilmann "Bucky" Stewart will do this fall - take a break from coaching football.
Stewart will turn the reins of the Calhoun Red Devils over to longtime assistant Bryan Sterns, who will open his first football camp as a head coach Monday when fall practice gets under way.
The school board will post the job tonight, with a five day period for applicants.
Sterns is reportedly interested in the position.
"We bought a house in Newark … Hazel has a great job in Parkersburg … it was just time to step away from things for a while," Stewart said.
This fall Stewart will teach in the Wirt County school system but will not coach.
"I told Bryan I would scout for them … I will be available to help. I still have a hard time not saying 'we' when talking about the team," Stewart said.
"I think there is talent to have a good season. If the guys work real hard they could have a winning season and maybe make the playoffs (since the Red Devils are dropping to Class A this year)."
Stewart said he was going to miss the people of Calhoun and the school but that by taking a teaching position in Wirt County he would not have to make the long 50-mile (one way) daily jaunt he had to make while living in Parkersburg and teach and coach in Calhoun County.
"I live seven miles from the school," Stewart said of his new home and his new job in Wirt County. "That's a lot easier."
Calhoun will try to rebound from a disappointing 4-6 season this fall.
The Red Devils have a rugged schedule including five playoff teams from last season.
"Talent-wise Braxton is loaded," Stewart said. "That's the most talented team 'we' play."
Braxton made the Class AA playoffs last year as did Clay. Williamstown, Wahama (which replaces Ravenswood on the Red Devils' schedule) and Doddridge made the playoffs in Class A.
Calhoun opens the season August 27 at Gilmer County.