By Jack Cawthon
Barbecuerun@aol.com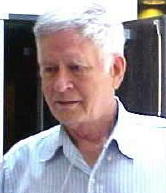 It may be a little bit of nostalgia mixed with neuralgia that causes one to reflect as he or she grows older, as we all do, if the breath keeps coming, either stale or reinforced with fresh air. My thoughts about Jim Comstock and L. T. Anderson expressed in a prior column set me to thinking about writers and why they do it. I once thought it was for glory and immortality and to satisfy an ego as big as a 747 airliner, which one must have to assume that anyone wants to read the stuff that soils good paper or clutters up the computer screen. But once you're dead, all that remains goes pretty much to the dead letter file, filed under the letter "X," as in "ex-writer." Or if lucky, ex libris, as an item in a personal library.
I hadn't realized how much writing had been produced by West Virginians until recently when Shirley and I attended the Arts and Crafts Fair at Ripley, after an absence of several years.
There was an exhibit and sales room set up by Trans-Allegheny Books out of Parkersburg. The room was filled with writings by West Virginiams, and the young man at the desk assured me that this was only a small amount of books from their vast collections. I bought two books on the Blennerhassett intrigue, one by Alvaro F. Gibbens, A.M., first published in 1914 by Globe Printing in Parkersburg, and now in reprint, and a book by Warren Wood, a first edition, published in 1909. I am not familiar with either author, but the Wood book is excellent. Published 100 years after the debacle, it gives some good insights and local lore. (Mr. Wood, wherever he is, should see this as a good token, that his efforts were worthwhile after all, and maybe this sheds some light on the why part.)
I keep looking for the author who delves into Thomas Jefferson's clandestine participation with Burr, with new evidence, as Jefferson becomes more tarnished as time goes by. I might add that Jefferson achieved perhaps his greatest fame as a writer, but with lover coming up fast in the infield. (Do you suppose that is another reason why so many strive to be writers?)
Norman Julian, long-time columnist for the Morgantown Dominion-Post, agrees with my praise of Comstock and Anderson, but reminds that Davis Grubb was one of our best writers. So he was, as his prominence in published books and movies attest.
But Grubb will fade, as all too soon he too will be forgotten. Already the memory of Comstock, who gained more national attention than Anderson, lives on mostly in the memory of an older audience. So, is it all vanity that keeps us writing? Some, such as Lee Maynard, may make a living hitting the big-time, big money of Readers Digest. Lee may also have fun writing his books, which I think puts it nicely to the critics who try to find beauty in sex and find some hidden symbolism. I found exhaustion in Screaming With the Cannibals, perhaps because of my age, after about 125 pages of sex. I can see Lee thinking, if sex sells and they want sex, I'll give 'em sex, and he does upside down, right side up and inside out, pretty much as Elmer Gantry did to the women in his religious congregation.
So, vanity and money, or for those who do it free, just vanity? I really don't know, as I write this. Why do you read it? Why do I insist on writing it?
But I digress, as I wanted to keep alive the names of Comstock and Anderson as long as possible. Both were journalism graduates from Marshall. But Comstock threw all that aside in his zany News Leader, and later, Hillbilly. Anderson stayed the course, but cut loose in his column, In Reverse. Anderson was more complex, and misunderstood. For the longest time I thought he was the world's worst, or best, cynic, which appealed to me. But one personal episode set me back. He called me one day at my Conservation Magazine office and began what I thought was a hoax. He said an old fellow, he coined the term "old feller" to belittle old age that didn't produce wisdom with it, had been submitting poetry to him in the hopes of having it published in the Gazette, but it wasn't the Gazette's policy to print such contributions.
He asked if I would publish a poem in my magazine and send a check to the old guy, as he was on his deathbed. I thought he was putting me on, but after some banter and it seemed serious, I told him that we ran contributions, some good and some terrible, but paid only for cartoons and artwork, a policy established long before I became editor. But there may be an out. I told Anderson to have one of his staff artists, Paul Crabtree was a great cartoonist, draw an illustration and we would send a check to the old man, as substitute. Well, the poem was printed, the artwork was great, and the requisition was written up for $5 for an "art poem." I hope the old fellow died happy.
Later, when the Democrats came into power with Wally Baron as governor, the Gazette ran a feature story on the magazine. Written by Skip Johnson, it was a great ego booster. It was some time later, when I found out that Anderson had written a letter to Baron praising my work and adding that it would be a shame to let a competent person go, even if a Republican, that I saw how he must have used his cynicism as a front, and at heart was sensitive and
concerned about others. So, maybe writers are just people after all who want an outlet for an overactive brain. I suppose the same could be said for serial killers.