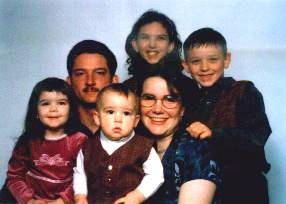 The Stewart Family
By Suzanne Mazer Stewart
MSZFROGGIE@aol.com
My darling dear husband has been at it again. He's got "wheelitis." In other words, if it's got wheels and it's his, there's something wrong with it. Everything from his fishing pole to the kids' little red wagon has been causing him troubles. And what troubles they've been.
We have a mighty big piece of grass out there that we affectionately call our yard. It used to be a pasture, and while it may consist of more clover than real grass, it still has to be mowed. Now, one thing hubby can't stand is wasting a perfectly sunny afternoon pushing a mower around the yard when he could be wasting it fishing. So, he's determined to get himself one of those stylish riding mowers like you see the race car drivers using in the commercials on TV. That's when the troubles really began.
It all started back in the Spring when he found this "great" used riding lawn mower for a "great deal." (Now, all you wives out there know there really is no such thing as a "great deal" on any used wheeled object, but men just really can't help themselves, now can they?) That thing did three laps around our yard and died deader than the possum that tried to cross the road. He took it back and the man offered him another "great deal" on another used lawn mower. That one made it two and half times around the yard before going on to that big lawn in the sky.
So, he took himself to town and got a brand-spankin' new machine from Wal-Mart. Now, I was sure his problems were over when that shiny new Snapper appeared in the driveway. Unfortunately, it's debut was rather sad, especially when one rear wheel fell off. Seems somebody at Wal-Mart had neglected to place all the nuts on the lugs and let's just say that one thing a wheeled object must have to be considered a success is all its wheels.
Well, he took himself and his three-wheeled beauty back to town and returned with a new push mower. He promptly taught the two oldest children the magic of yard maintenance and has refused to comment any further on when, if ever, he'll make another attempt at "mowing in style." Of course, his silence may be due more to the fact that he nearly bit off his tongue when he fell over the kids' wagon handle than a reluctance to share on his part.