By Alice Hickman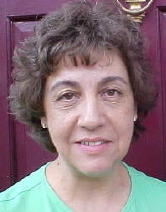 One of Calhoun County's favorite events is the annual Wood Festival. Crafts, gift ware and refreshments are displayed in the many booths that surround the courthouse.
My friend, Kathy Boswell and I were the proprietors of one such booth this year. During those three days, we caught the true meaning of festival days. Items for sale, good food, music, prizes, contests, parade with floats, emergency and law enforcement vehicles, old cars, new cars, beautiful princesses, Calhoun County High School Band, Heartwood's wonderfully masked dancers and performers, clowns, seniors, babies, children everywhere with painted faces worked the magic.
But the very best part was the "people". We had the privilege of getting acquainted with people in neighboring booths and after three days of interacting, we left the festival feeling like we had been a part of something important.
One booth directly across from us captured our attention from the beginning. It was "Up-A-Holler", a display of some of the best wood work that I have ever seen; Tamarack material in my opinion. It was operated by Jim Murphy and his wife, Debbie. Jim is employed at Simonton Windows at Ellenboro, but enjoys woodwork so much, he would love to do it full time.
We learned that he has been wood crafting for about three years part time. The Murphy's have two children. Deva, 19 and Quentin, 10. Jim's brother-in-law, Daniel Marks, helps with finishing work such as staining.
Jim and Debbie want to start traveling more and are looking into acquiring a trailer for means of transporting their productions into other areas of West Virginia and beyond.
We observed the great detailed work on key chains, butterflies, plaques, artwork about fishing, shelving, eagles, horses, buffalo, trains, patriotic items, clocks, baskets and bowls. Great gift ideas that can be personalized with anything for someone who has everything.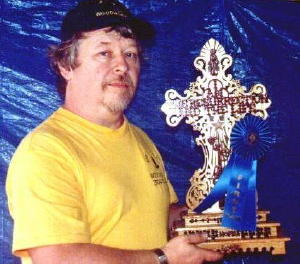 One of Jim's special creations, a uniquely designed wooden cross, won first place in the Lion's Club competition. It was back on display in the Murphy booth Saturday afternoon, with a "BIG" blue ribbon by it's side. People were able to display their items in booths, thanks to The Lion's Club Calhoun County Wood Festival - 2004.
There were no wooden hearts. Just people helping people. Renewing old acquaintance. Making new ones. Works of passion and works of compassion. Thank God for the Wood Festival and all the good things it brings into our lives.