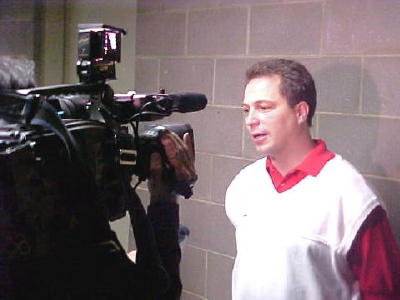 Davis ends outstanding career as Calhoun basketball coach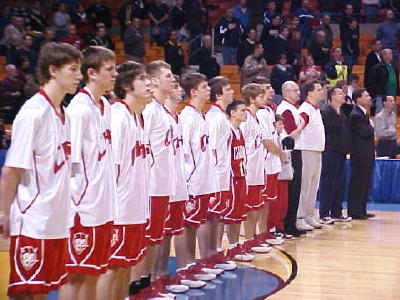 2003-04 season had an exciting climax, going to state championship
Calhoun High's basketball coach Tim Davis has been given the "Coach of the Year" award by the West Virginia Schools Athletic Coaches Association. He was notified by Jimmy Frashier, regional director, he is receving the award.
Davis' 2003-2004 basketball season is likely the highlight his 21 years of coaching at Calhoun with 224 victories.
Not only did he take his team to the state play-offs, a first time ever event for Calhoun, he was coaching his son Marcus, who was named to the First Team Class AA All-State Team for the third year in a row.
Since he first began coaching at CHS in 1983, he has not only compiled an impressive list of accomplishments, he has also touched the lives of hundreds of athletes.
Now, Davis has resigned from his basketball coaching job. "It's been a great experience," he said.
Some of Davis' statistics during his basketball coaching career:
- Four appearances in the Little Kanawha Night of Champions (1987, 1996, 2003, 2004)
- Four sectional championships (1994, 1998, 2003, 2004)
- One regional championship (2004)
- First state tournament appearance in school history (2004)
- Coached eleven First Team All Little Kanawha Conference players. Three of those players were two-time selections, one was a three-time selection who was also name the Little Kanawha Player of the Year.
- Coached a three-time First Team Class AA All-State selection
- Little Kanawha Conference Coach of the Year (1987, 1992)
- Coached the Little Kanawha Conference All-Star Game (1984, 1987, 1996, 2003)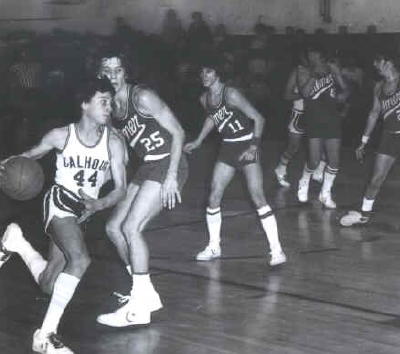 During coach Davis' playing days at CHS,he was twice named to the All-State Basketball Team in 1977-78 and 1978-79. He also held the the all-time scoring record at CHS with 1807 points until it was broken by Marcus during the 2003-2004 season
Photo courtesy of Calhoun High School
Dozens of pictures and stories regarding the Red Devil's 2003-04 season can be found under Sports.