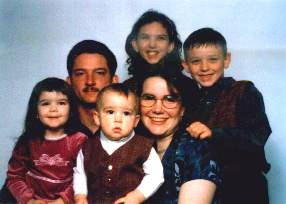 The Stewart Family
By Suzanne Mazer Stewart
MSZFROGGIE@aol.com
Seems like there's a whole lot of debating going on lately. Everything from presidential candidates to diets to the "correctness" of our "war" in Iraq and Afghanistan is being bantered about. You can't walk into the beauty shop, the library or past the bench in front of the gas station without hearing somebody's side of something.
Quite frankly, I'm tired of it. I'm tired of all the dissension and division it's causing. I'm tired of having to defend myself everywhere I go, just because I have a different opinion than the latest "news" report. Yep, they've done it again. They've wore me out and wore me down with their non-stop chatter. It's time to say a few things of my own.
First let me explain something. I'm not saying there's anything wrong with saying your piece. I am ever so thankful that I live in a country where freedom of expression is a right, not a whim of some tyrant. Heck, I make my living off my words, so the right to say what I want about what I want is very important to me.
What I'm having a problem with is all those whose opinions serve no other purpose than to tear people apart. If all you can do is stir up trouble, that's not a debate. It's not an "analysis." It's a nuisance. And some of the things they now want to "question," like our war in Iraq and Afghanistan, just don't make a lot of sense to me.
Whether or not we should be there is of little consequence NOW. The fact is our soldiers ARE there; they HAVE done some good. Let's just support them while they are there and pray they get home soon. There's no need to sit around in fancy suits in brightly lit TV studios and question it. It's enough to make me want to ask some questions of my own, just to hush those big mouths up.
For instance, I want to ask the lady doctor in Kabul what she thinks of our efforts on her behalf. See, under the old Taliban regime, she could neither practice her profession nor receive medical treatment herself. Women were not allowed to work, and male physicians were not allowed to treat women. I wonder what she would have to say about whether or not we are "right" to be in her country, improving her life and the life of her fellow Afghani women.
Then, I'd like to ask the Kurdish mother in Northern Iraq if she thinks the U.S. was "wrong" to overthrow Saddam and his cronies. I wonder if she's sleeping better since she doesn't haven't to live with the thought that another gas attack against her people might wipe out her entire family.
Gee, I wonder what she'd have to say? Or how about the little man in the shop in Baghdad who now has both running water and electricity so that he can serve his customers, make a living and support his family? Wonder what HE thinks about the whole situation?
Next, I'd like to go to Washington, DC and New York and all the other places where the so-called "political" analysts live and work. I'd ask them when was the last time they got down on their knees and thanked the good Lord above for the freedom to run their mouths the way they do.
Then, I'd like to buy them all a first class ticket to some place where they really know what to do with loud mouths who like to start trouble - the local honky tonk. I hear they just hired Bubba's second cousin as their new bouncer. He's a mighty big boy and can use the exercise.
I think it's a shame that young men and women have to go and die to free other people. I think it's a shame that freedom isn't a universal right for every human being. And just for the record, I DO remember the last time I thanked God I live in America where freedom might not be "free" but it is mine.
If you can't remember the last time you did that, why not take some time between the potato salad and the fire works on the Fourth of July to do so? After all, that's not something that one should have to debate about.