By Jack Cawthon
Barbecuerun@aol.com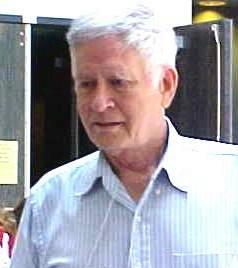 If plagiarism is the finest form of flattery, I have certainly flattered many writers, but none more so than L. T. Anderson, who died recently at the age of 83.
I first met Anderson in print while I was attending Glenville State. He wrote a column "In Reverse" for the Sunday Charleston Gazette, which back then hadn't joined with the Daily Mail for a combined Sunday edition.
Anderson, who was then city editor of the Gazette, became an instant hit with me, as he could aim words that were sharp enough to hit a gnat in the eye at 50 paces without collateral damages. He delighted in ridicule and irreverence to many exalted icons, among them politicians, teachers, sometimes lifting the hood of motherhood, and perhaps his favorite, men of the cloth who might wear black but who lusted mightily for the green.
I was a world-weary child, even at 19, with a chip on my shoulder, which has seemed over the years to grow into a tree thereon, who believed that society only rewarded jocks and cheerleaders with the finer things in life, i.e. sex and money, not necessarily in that order, both of which I had little. Anderson even included those "winners" with gusto in his knife-wielding words, and I knew he was a man of my own heart and faltering words.
At he tender age of 19, I was handed a column of my own by publisher Linn Hickman to loose my roiling mind. He may have regretted it later after my first few columns, as he was a mild-mannered man who chose mostly good words and good works.
I became an L. T. Anderson in drag, as my words dragged, whereas his became pointy tacks that nailed the subject with gusto.
Jim Comstock was making his own word realm with his Nicholas County News Leader, and he was the direct opposite of Anderson in style. Comstock had a way with words that never seemed to express bitterness or cynicism, but by a simple, by golly, manner could get his point across, and if he felt that, say, a politician had strayed too far from the fold, you wouldn't realize the poor rascal had been nailed until he dropped dead from Comstock's sweet-laced poisoned paragraphs.
As a result, with my two idols of the writing world to emulate, I became a schizoid writer. The dilemma was overcome after several attempts to imitate Comstock. I found I couldn't duplicate that simple, seemingly stylistic way that he put words on paper. So, I let all my vitriol seep out, and it was a glorious feeling, as I patterned after Anderson.
Little did I know that both were reading my column. Each Sunday, other editors across the state were reprinted in the Sunday Gazette State Magazine section, and, lo, the lowly Glenville Pathfinder editor made his way into big-time journalism. Sometimes I was quoted with an accompanying cartoon by the Gazette's Paul Crabtree. This was heady stuff for a kid who hadn't yet reached the voting age then of 21.
Jim Comstock would from time to time reprint my column comments. I loved the attention, but I loved the money the Gazette paid me for stories and pictures for its State Magazine, which might fetch $20 to $25, which in today's inflated worth would equal $120 to $l50. I had achieved fame and fortune, in my mind, but still no girls to spend it on. They just didn't seem to get the fame and fortune part.
I had never met Anderson except by telephone. Only after I went to Charleston as a state editor did I build up the courage for a visit. I was so nervous that I almost genuflected in his presence, and I never repeated the experience. I found that one visit to the Pope of Journalism would be enough for one not worthy to carry his copy paper.
I always referred to him as "Mr. Anderson," and I only shorten the form to "Anderson" here, and you may assume the "Mr." With Comstock it was always "Jim" from the beginning. I don't know why different forms of address fit different people, but one feels it without being told.
Both Anderson and Comstock were the best writers this state has produced, and I will pit them against any of greater fame and glory. L. T. Anderson never achieved as much attention, perhaps, as did Jim Comstock, and neither wrote a book of note, Anderson, as far as I know didn't, and Comstock only on a limited basis. But both had far more readers than most book authors.
I stole my Burvil character directly from Anderson's Burvil and Dreama Sue, the folksy couple who he used regularly in his "In Reverse" column.
In later years Anderson became embittered by the Gazette when he failed to achieve a much deserved promotion. I became embittered by own employer about the same time, and I once wrote to him telling how much I had wanted to emulate him, but not necessarily to the extent I now found myself in.
He "retired" and became a columnist to his once arch rival, the Daily Mail. He moved on to a more mature style of "In Reverse" but still could shoot out that gnat's eye with ease. I once spent a Christmas Eve by reading his past columns, and it was one of the best Christmas presents ever.
They both are gone now, Comstock and Anderson, and how soon the light dims on even the brightest. However, as long as there are those of us offering the finest flattery, they will survive in whatever small way we can honor them. My only hope is that if Anderson writes a parody of that dude in the long, white flowing robe, he will let Comstock edit it.