By Ann Richards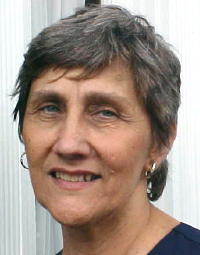 We were bored!
"MeMe, make Tierra quit calling me names", complained Darren.
"Make Darren stay out of my room!" retorted Tierra.
I was visiting family in Dunbar and we had exhausted our list of things to do.
Six year old Darren got out his Frisbee and we threw it around for awhile. The walk began as the Frisbee throwing ended, with Darren running and skipping and me keeping up with him. It was beginning to be an aerobic experience.
Spring was springing! I slowed down to enjoy the beautiful blooming trees and flowers lining the streets and sidewalks. Dunbar is a clean, tidy place. Everyone takes pride in making their property look good. "Pretty good, for being in the city", I thought to myself.
But, missing the country, I decided there was "too much noise here for me".
Then, there it was, a sweet gift from God, just for me, right in the middle of metropolis. In the corner of the grassy yard, next to the sidewalk stood a wild, pink honey suckle in full bloom. "No Trespassing" the sign said. But, it was getting dark and no one was around.
I stepped close enough to bend down and smell the blossoms of this lovely plant, being out of it's element as I was.
For a fleeting moment I and the honeysuckle were one, as I reflected on days gone by when I found wild honeysuckles in the woods where there was no hustle-bustle; no worry about how to "make ends meet", no boredom and no sadness. Just nature.
"What's that, MeMe?" Darren queried, bringing me back to the present. I turned my attention to last years acorns he clutched in his hand and we turned to go home.