By Diann Clothier

Sunday, May 30th, South Charleston, WV.

The National and Regional Team Bon Jovi/West Virginia members joined forces Sunday at Little Creek Park in South Charleston, WV, for the 6th West Virginia Mountain Bike Race Association Point Series race, the Volvo for Life Race the Trace - 8 of the 9 members racing took top 3 spots at the re-designed 4.8 mile lap race.

Pat McDonald and crew, as usual, ran an excellent race; special thanks were extended to Steve Marshall for "losing" the 7 creek crossings which, in past years, had sabotaged many a bike. The weather almost cooperated - waiting almost 2 hours after race start to burst through the cloud cover and soak riders and spectators alike.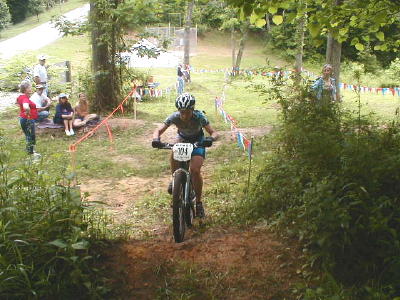 Mandi Riddle
Mandi Riddle, Women's Pro/Expert, took 1st place at 2 hours, 45 minutes for the 19.2 mile race. Bryan Fawley, Men's Pro/Expert, finished the same distance in 1st place in 2 hours and 4 minutes. Cai Clothier, racing a 9.6 mile race as a Junior Sport 14 and under, took 1st place in 1 hour and 45 minutes.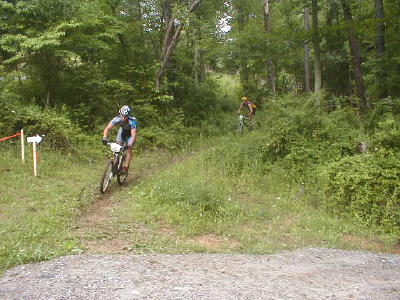 Bryan Fawley
Steve Thaxton, Men's Vet Expert, raced 19.2 miles in 2 hours 21 minutes for 2nd place. Andrew Fetty, Men's Junior Expert, also took 2nd at 2 hours 51 minutes, while Joey Riddle, Men's Pro/Expert, finished 3rd in 2 hours 12 minutes.
Sport riders raced 14.4 miles: Michael Haid (Men's Sport 26-34) took 2nd at 1 hour 55 minutes, and Chris Flick (Men's Sport 19-25) also placed 2nd at 2 hours 3 minutes. Men's Vet Sport (35+) rider Wes Stafford placed 7th.
The team can next be seen at Tour de Canaan, GrannyGear's new 4 day, 14 event extravaganza of mountain bike racing in and around Davis, WV June 3rd through 6th.
Team Bon Jovi/West Virginia is sponsored by Jon Bon Jovi (yes, the rock star!), Worldwide Chiropractic and Sports Medicine, Maple Creative, Charleston Bicycle Center, Kenda Tires. Cannondale, Pactimo, Fetty Intensive Training, Hydrapak, and Curve Socks. Please visit our web site at www.teamwvbonjovi.com for more information and contact information.