By Jack Cawthon
Barbecuerun@aol.com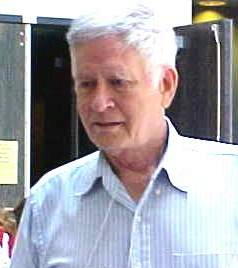 Anyone who has seen a tri-folded American flag handed to a grieving mother, a flag that has just been lifted and folded from the sealed coffin of her son, has seen the ultimate drama in a country at war.
When that scene is projected into the memory of a nine-year-old, the only remaining son, the images remain permanent, at time suppressed, but at others, such as Memorial Day there is a replay and no delete button to push. I suppose that it may be part of traumatic stress syndrome, not known as such until labeled in recent years, and I doubt the damage done to a child can hardly be measured or overcome by age.
When my brother was killed in a training flight just prior to shipping out to the Japanese Pacific conflict, such deaths in wartime were part of a "worthy cause." This made it no easier on the kin, but it didn't seem in vain. "With regrets from a grateful country," or however the telegram was worded, some honor was associated with it. The country, patriotism, the flag were held high beyond doubt.
Today, I can only imagine how the grieving loved ones of a soldier killed in Iraq must feel. Do the words "to liberate Iraq" carry with them the same sense of honor? To me, that is a hollow sound of justifying a conflict for a country better off if left to its own devices. "To make the world safe for more oil," although not as noble, might be far more honest. So far, over 800 service men and women have died for whatever reason, numbers that the government would rather not disclose.
I am certain that there are still small cemeteries far back in the country, far from urban settings, that receive their dead in ceremonies all too familiar to those of us who have lived them in a long ago past. There are mothers and fathers without formal education who have no idea of why or how a conflict is occurring in a far off land called Iraq. For that matter, I'm sure there are high school graduates and goodly numbers of college ones who don't know either and couldn't care less. This can hardly be called a "noble" attempt, except by military leaders who have always been ready to win with "expendable" numbers of losses.
There may be lonely flags flying over remote country cemeteries, as one once did in ours, for these recent graves. My dad erected a flagpole and always flew the flag that had draped my bother's coffin. It stood proudly in the breeze as a country preacher delivered his sermon to the many folks who came from the hills and hollers to decorate the graves.
I still have that flag, although the pole is long gone, the preaching is a thing of the past, and the people gather at days convenient to them. I make sure to place a small flag upon the grave and still gaze in amazement at the monument with its tribute inscription, not paid for by the government, but by the flying buddies of my brother. They made a generous collection, enough that my dad purchased some war bonds for me with money left over. I feel that was the great honor my brother received and the manner in which he was respected by the men around him.
When the decorating is finished there will be many small flags in that small hilltop cemetery. Many will be for men who died in later years, but you can bet that most who lie under that flag died, however many years beyond, with memories of their own terrible experiences of a country at war.
The memories of a military funeral can hardly be forgotten: The mournful sound of Taps, the rifle fire, and in our own, the pallbearers, all in uniform of their service, and all men who were on leave and chosen by my dad. He was determined that my brother be carried by like men who would be facing their own battlegrounds.
Those of us who have experienced loss will have lifetime memories of what war can bring. There may be honor in a victory for survival of our way of life, but little can be said for such struggles when the cause is unclear.
There will be flags planted across the country this Memorial Day. For many without the personal sense of loss, they will be less meaningful, and for a good many the day will be spent in picnics and other holiday activities far from solemn graveside visits. I relish my own retreats, but they are more somber afterwards, and there will always be moments that take me too far back and ones that will follow me too far into the future.