By Jack Cawthon
Barbecuerun@aol.com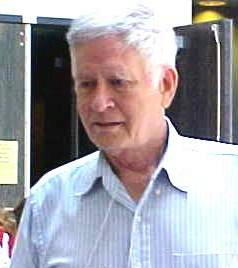 I know how anxiously many of you folks have been awaiting the election returns. No, not the Jackson-Manchin race. Who gives a hang about it! I'm referring to the contests in the Tri-Holler District, comprised of Big Puf, Little Wheeze, and Blue Tick precincts.
In what was considered a hotly contested race for delegate, Voy Dire took on Bobby Gene Bubba, long-time incumbent. Dire, a local attorney, and advice by mail order, ran with the catchy slogan,"Nothing Runs Like a Dire." If his results stand as proof, nothing did. Even a kid on a rusty Gravely could have outrun him.
Unfortunately, money entered in. At last count, Dire had spent $149.95, to Bubba's $207.85. Local wags were shaking their heads over the spending frenzy, and harked back to times when a couple of gallons of cheap whisky and a few well-placed poll workers could work wonders. They feel that we are really living in the sins of the Last Days.
I must impress that the totals are unofficial and will be so until the ballot commissioners determine the candidate of their choice elected. But so far, out of 1,862 registered voters, 4,849 votes have been counted, a rather light turnout even by West Virginia standards.
It looks as though Bubba has won again. He received 3,747 votes; Dire was a close second with 536; the Orange Roughage Catfish was written in 344 times, some suggested by the Allegheny Front; Homer Bob Pratlow received 54 write-ins, and there were 168 votes reserved for whoever needed them, should the election be close.
As I write this, Dire is considering asking for a recount. The Allegheny Fronters are upset that something smelled rotten in the election, which, in my opinion, is their "holier than thou"attitude that outsiders try to inject into our manners and customs, thinking that we can't control our own lives. Love it or leave it, I say!
Bubba was gracious enough to grant me an interview. I haven't felt as vitalized by an election since I once covered Gilmer County politics and learned the process. I served as a stringer for some major newspapers, and although I'm not as young as I once was, an observation once noted by someone who certainly wasn't, the Herald certainly didn't go wrong in counting on me for this big assignment.
I'm fair in my journalistic coverage, so I asked the corrupt, corpulent, complacent Bubba what attributed to his seeming win over the incompetent shyster Dire. He said it was the people speaking, although those who voted for Dire were certainly deaf and dumb, he added. I asked him if the thousands of dollars that he sent to the district from the notorious Budget Digest had any bearing. He scoffed at the thought. I, along with a million or so other West Virginians, have never understood the Digest, and it has caused untold indigestion for those who have tried.
The Digest seems to consist of a big piggy bank, with the taxpayers' money inside. The lawmakers have power of attorney, and here Voy Dire would have excelled, with no penalty for early withdrawal. They also pay most of us no interest. How else can we explain a new college in Hardy County and a senior center supervisor being paid a half mil?
Bubba said just because he sent a million dollars for an emu processing plant for the Tri Hollers and the locals confused it with ennui and built a meditation center, wasn't his fault. He then installed an Eastern religious leader and paid him $350,000 a year. He said the money had been well spent, and he wished other sections of the state would follow suit, as the unemployed had some place to go to relieve their anxieties. I didn't go into the couple of thousand spent to built boat facilities on Big Puf Crick only to find that the water was so polluted that it destroyed the boats, or the environmentalist hired for $400,000 a year, who just happened to be a Bubba in-law, and who insisted the waters of Big Puf were safe to drink, did so, after which his grieving widow was awarded his salary for 10 years to carry on, which she did with much younger men.
For those of you not in the know, meaning you live in a less advanced state, all of this may appear as unacceptable politics. Those of us who still can't figure it out may be the explanation as to why we keep voting for the same people over and over.
Bubba told me his next major legislation was to make All Terrain Vehicles legal on the Interstates. I told him I thought federal law might view that differently. He spit, and said the feds didn't know their ATVs from Humvees.
I found Voy Dire off in a corner, not taking his defeat, if such was the case, in a gentlemanly manner. He insisted that he wasn't a bit upset, as he had several unopened cases to tend to. I noticed one had been opened and an empty bottle of Old Al Hag lay on the floor. He told me there would be changes come the next election, and that he had some things up his sleeve, something a judge once noticed and fined him in contempt of court. But Dire is used to contempt. And he will run again; if not for office, then for his safety, I'm certain.
Homer Bob is stunned by his write-in votes, none of which he entered himself, as he can't write. He figured he might have appealed to some of the deaf and dumb vote that was turned off by the two major contenders. Will the Orange Roughage also make a major splash in future elections? Bubba is funding a study from you know where.
If democracy has prevailed and flourished all these years in Big Puf elections, there is still hope for Iraq, as well as for Rumsfeld. Bubba has promised five million for a new prison for the Tri-Hollers. He says people shouldn't be shocked, especially if they vote for him, with all the new hookups for electrical accessories.