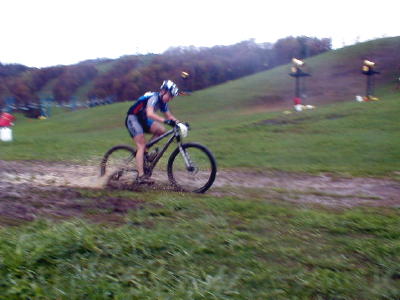 Mandi Riddle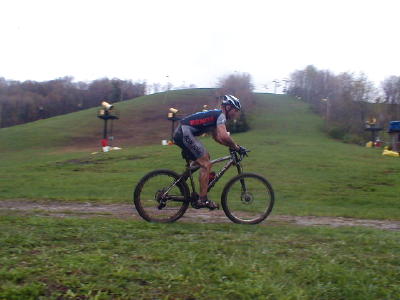 Bryan Fawley
By Diann Clothier
May 2nd, 2004, Winterplace Resort, Flat Top, WV
Sunday, May 2nd, dawned a bright and sunny day, but as the start of WV Mountain Bike Association's 4th Point Series Race , the Free Wheeling Mountain Bike Race, approached, the skies darkened and rain began to fall. One might begin to think that the WV rain clouds have renewed their WVMBA membership…. As the 72 riders lined up and began their race, the rain increased to a full downpour, drenching racers with a cold driving rain.
Nevertheless, Team Bon Jovi/West Virginia's expert riders slogged throughout 20 miles of mud to snag 4 first place finishes: Bryan Fawley (Men's Expert), Mandi Riddle (Women's Expert), Andrew Fetty (Men's Jr. Expert), and Michael Haid (Men's Sport 26-34).
Steve Thaxton (Men's Vet Expert) pulled off a 2nd place finish, and Joey Riddle (Men's Expert) came in 5th.Two members did not finish the race - Wes Stafford had mud-related problems, and Cai Clothier stopped after an endo involving a root, a large rock, and a body-slamming tree.
The national team members will be heading to California soon for the NORBA Nationals at Sonoma and Snow Summit, so watch for them there!
Team Bon Jovi/West Virginia is sponsored by Jon Bon Jovi (yes, the rock star!), Worldwide Chiropractic and Sports Medicine, Maple Creative, Charleston Bicycle Center, Kenda Tires. Cannondale, Pactimo, Fetty Intensive Training, Hydrapak, and Curve Socks.Please visit our web site at www.teamwvbonjovi.com for more information and contact information.