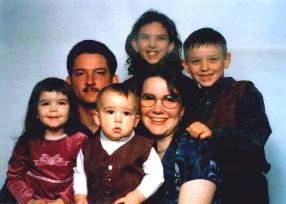 The Stewart Family
By Suzanne Mazer Stewart
MSZFROGGIE@aol.com
Dear God, hello up there. It's me, down here in the holler by the pond. Remember, the one You "blessed" with four kids? I'd like to talk to You a moment if I may.
I have a few questions for You, for starters. Like, why do You give them so much energy, while mine runs out four hours before bedtime? And, why did You give them the ability to memorize the dialog to every idiotic episode of "Spongebob Squarepants" after only one viewing, but they can't seem to remember to do their chores every morning without nagging? Oh, and how come they can eat all the ice cream, cake and candy their little stomachs can handle, while one M&M adds at least an inch to my hips? Lastly, did You really have to answer MY mother's prayer that someday I'd have children just like me when I grew up?
I suppose I should thank You for these beautiful offspring of mine. Let's see, the oldest has the beauty and fashion needs of Queen Esther on the budget of a widow's mite. (Why did you EVER allow fashion magazines or mall boutiques to exist in the first place?) The second one, (the troublesome male that takes up SO much of my prayer time, remember,) listens about as well as Jonah did. (Unfortunately, there are no whales in the pond. Could you do something about that?) The third one, the littlest female, appears to have the wisdom of Solomon, or at least SHE thinks so, the way she orders everybody about. Last but not least, the youngest one of the bunch. He has the temper of Samson, and the destructive talents to match. Yes, thank You, Father. This mother has much to appreciate.
Now, I have a few needs I would like to bring to Your attention. Like the need for Job's patience, the ability to turn 5 loaves and 2 fish into a week's worth of groceries, and the strength to make it through each day until bedtime. Also, when I start whining like this, remind me, please, that these years are few and once they are over, I can never get them back. Give me the humor to see through the hard times, and the good grace to listen before I yell. Oh, and the ability to look good with gray hair and wrinkles. (I'm pretty sure they're making me old well before my time.)
In closing, God, I'd like to thank You for my mother. Her wisdom, love and strength have shown me how to be the mother I am today. And, she's available for babysitting this weekend. I need the break. Amen.
In all seriousness, I'd like to take this opportunity to wish all my readers, mothers and children alike, a very wonderful and enjoyable Mother's Day this year. Whether you are young and new at this whole motherhood experience, or older with grown children providing you with grandchildren, or a child whose mother is no more, you all deserve to have a wonderful day filled with memories and joy.