By Tony Russell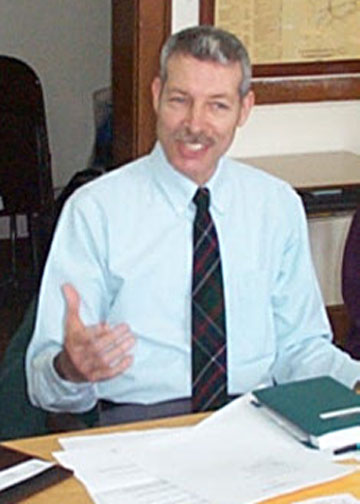 Its always boom or bust in the pipeline business. Things have been a little slow for a while, but, according to my buddy Don Gastar, flush times are straight ahead. I stopped to talk to him yesterday on Main Street as he was putting money in a parking meter-actually two parking meters. He was driving a brand new fire-engine red extended-cab big-bed diesel pickup so long it took up two parking places, and he had a smile on his face as wide as a king-size bed.
Whats got you so chipper? I asked. Youre usually shut down in January and February, and ready to gnaw through barbed wire.
Pardner, he said, Ive just landed the biggest contract of my career. I bid on that new job they announced in Washington, and they dont fool around. They called me this morning and told me it was mine. Ive been on the phone all morning ordering new dozers and backhoes, and trying to line up my crews.
I must have missed the announcement, I said. What new job was that?
Didnt you hear? he said, surprised. It was on all the news. Theyre tearing out that old line between church and state!
The line between church and state? I said. But I thought that was a permanent line, set in concrete! That old thing! he scoffed. Its more than two hundred years old. Its rusty and leaks like a sieve. You can walk the line almost anywhere and smell gas.
I didnt know it was in that bad a shape, I admitted. I thought that was just hot air. That must be a pretty big job.
Damned right, he said. All fifty states. I dont even know yet how many crews it will take.
How much time do you have? I wondered.
Thats the beauty of it, he said. They want it done yesterday, and hang the cost!
Whats the rush? I asked.
Theyve got a new pipeline they want to build, sending money to their religious supporters, and theyve got to get that old line out of the way. Its just a nuisance at this point. Theyll sell it for scrap.
How bigs the new line going to be?
Nobody knows for sure yet, he admitted. But its gonna have to be a whopper. Theyll use it to send billions from Washington, D.C., to churches in every state in the Union. And its not just the size. Its the complexity of the thing. Youve got all that money, and what most people dont realize is its going to go both ways. The money gets traded for votes and influence, too, and thats all within the same pipeline. Its going to take one hell of a computer system to monitor the flow and keep it all moving. I just hope I can land that job. If I can impress them on tearing this old line out, I figure itll give me an inside track on building the new line.
Im really happy for you, Don, I said. It sounds as if youll have work lined up for quite a while.
Thanks, he said. I reckon this shows that the new administration is a friend of the working man.