By Gaylen Duskey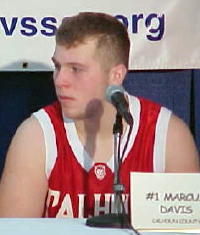 Following one of the late season Calhoun High School basketball games, a game in which Marcus Davis (left) had once again lit a fire under the Red Devils, I paid him what to me is the greatest compliment you can give a player from here. "You are," I said, "better than Phil D'Orazio."
That's something I never said about anyone else in Calhoun High School basketball history because in my eyes he was the greatest Red Devil basketball player ever, although I'm sure there are those that may debate me.
But in my generation - Phil was a year ahead of me in school - he was the greatest ever. He did it all on the basketball court and he did it with such ease as to make mere mortals like me jealous.
Old legends die hard and the legend of Phil D'Orazio died hard.
He had been recruited by the big boys but ended up at Fairmont State where he and coach Joe Retton hit it off like oil and water. It was only later, after he was called up for an army physical, did he learn that one leg was about an inch shorter than the other.
That was Phil D'Orazio, part real … part myth.
And that is the difference … why Marcus is better.
His exploits were seen with the less jaundiced eye of a man in his mid-50s.
There was not the myth or legend of the idealist of three and a half decades ago.
There are just the facts.
And the facts are these:
Marcus made the Class AA All-State team again this season. It is his third straight time on the all-state team, making it as a sophomore, junior and senior.
Marcus is the leading scorer in Calhoun basketball history supplanting his father Tim, who was also a tremendous high school basketball player.
Marcus is a three-time All-LKC pick.
Marcus is also the first Calhoun player to be named to the Class AA State All-Tournament team. There is a big reason for that … this year was the first time in the 81-year history of Calhoun High School that the basketball team made the state tournament. Marcus was a big reason for that … his three-point play with 7.1 seconds remaining in the regional final lifted the Red Devils past Oak Hill and into the final eight.
Davis will ply his trade at Glenville State College next fall where Pioneer coach Chad Hankinson is counting on him to give the team an outside game.
Yet for as good as Marcus was at basketball, football may have been his best sport.
He never made the Class AA all-state first team in football but he should have made it twice.
His junior year there was some horse-trading among the all-state selection committee at the all-state meeting and he was left off the team to allow a senior a spot on it with the assurance he would make the all-state team the next year.
The next year they forgot the assurances.
Yet he still had offers from many colleges and universities to play football.
I shall sorely miss Davis next year when I watch Calhoun play, but Glenville is close enough I can see him play for the Pioneers.
Besides, with Davis graduated it will be time for Calhoun's next budding star - Jake Perkins. Perkins made second team all-LKC (he should have been on the first team) and honorable mention all-state.
That's the thing about legends. Someday Marcus Davis will be someone's legend and Jake Perkins will be the guy replacing that legend.