By Jack Cawthon
Barbecuerun@aol.com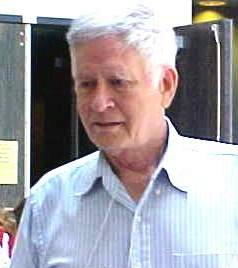 In the game of life I've always had trouble making it to first base, let alone scoring home runs, whether they be sociological or biological. Most of my efforts have resulted in short pop-ups to the outfield.
Then, I heard about Pete Rose. I'll wager that you have heard about him also. Although he was a major baseball player in his field, he fouled out chancing a big hit off the curved balls of life, which have whizzed by most of us in the bat of an eye. Now, I wouldn't know a shortstop from a touchback if they stood side by side in a well-lighted room. For obvious reasons, mainly ineptitude, I was never allowed to play any sorts of sports which has left a blank spot in a part of my brain which I now fill mainly with stuff for this column. Within that debris, Pete Rose intrigues me.
For years he has been trying to overcome the odds, betting he would be admitted to the Baseball Hall of Fame. The last I heard he had played his cards right.
Mr. Rose and I are similar in many ways, if you disregard baseball and all other gaming. I, too, have been trying to win immortality by some sort of fame, fully aware that Mr. Rose and I don't have all that many years left until we cross over the river and rest in the shade of the trees, as the great general Stonewall reportedly said on his deathbed. (However, I have had such minor near-death experiences while serving on The Payroll. We called them "coffee breaks.")
I know for certain that I will never be enshrined in the Journalism Hall of Fame, and there is little chance that I will be named for humanitarian works, as I continue to support the Republican ticket.
As you know from reading my brilliant writings, my modesty knows no bounds, and I am never one to dwell on many great accomplishments, however great they have been, I say with great humility.
But as the lone duck said when it became lost from the formation, I think it is time I honked my own horn. After all the years of struggling in the world of academia, where as a McCarthy pilgrim among notorious fellow travelers, I was never accepted for what I am: a genuine product of the hill culture who could have served as a valuable study project for those in "Appalachian studies." Instead, I was passed over for "experts" from Minnesota or Wisconsin, or a vast number of other states whose natives spoke English with a funny accent.
And, unlike Mr. Rose, I never took a bet on improving my lot, except occasionally buying those scratch-off lottery tickets. I did make progress in this respect, as after buying ten tickets, say, and winning maybe three dollars I would quit while ahead by winning money. I did feel guilt doing this as I felt I was depriving the poor from the only method the state has established for them for pulling themselves out of poverty.
Only after I had been shown the exit door (the sign was burned out) leading down from higher education and told to watch my steps, did I enter the real world and begin my search for the meaning of life. Suddenly, and lo, before me as if in a vision I found myself in the hamlet of Big Puf as I was down to my last to be or not to be.
There are unbelievers among you who doubt that Big Puf exists. There are others among you, my most faithful readers, who firmly believe, but who are unfortunately on mind-altering substances. It is, like John Kerry, to the middle class that I appeal.
Not only did I find Big Puf, but I was accepted as the wayfaring pilgrim I was, from a road filled with welfaring pilgrims. I had found my place at last, and best of all, the taint of "higher education" was ignored. I was told that after a good dose of ramps no one would notice.
For a number of years now I have been traveling the road to and from Big Puf. It has been my retreat with honor from worldly pursuits of fame and fortune. I would strongly suggest it to Al Gore, as he would be welcomed by our companionship, if not our vote.
The poet, unfortunately there are many, has said that all good things come to those who sit and wait, although I had tried that approach on The Payroll, but at last my efforts, or lack of, paid off.
Now for the major announcement: I have been chosen as Publicity Director and Entertainment Coordinator for the annual Big Puf Orange Roughage Catfish Festival. (Please hold your applause to the end.)
My past experiences of barnyard promotions have paid off by the shovel full. I owe my selection mostly to one person, Leroy Snubbins, an intensive farmer who sells his main field crop in Baggies to patrons around major East Coast cities. It was a close vote between Arline Snodgrass and me. Leroy cast the deciding vote, as he felt as Arline had only handled church promotions in the past, the last thing they needed for their festival was to have someone who told God's truth. I felt deeply honored by his confidence in me.
My past friendships with such great entertainers as Big Puf Daddy and his Puf Adders Band, as well as with Sixpac Trembler, famous country rapper who has been acclaimed three times better than the late Tupac Shakur, will assure that those who have faith in me will be rewarded, even if I am not.
I am certain, in all promotional zeal, that this year's Festival will be bigger and better than any held before. And now you may cut loose with your suppressed applause. I feel I have rose to the occasion.