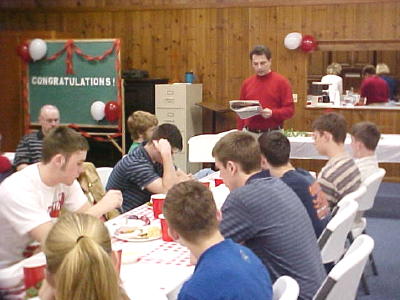 Coach Tim Davis reviews teams history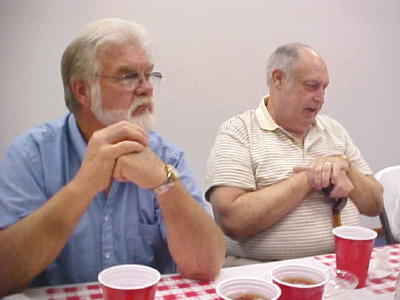 Lloyd Wright (left) of the "Three Amigos" and Robert
"Tank" Davis (right) express their thoughts about Calhoun's winning team.
By Gaylen Duskey
Calhoun County boys' basketball didn't win the state championship.
Rudy Ruettiger didn't become an All-American football player at Notre Dame.
But Ruettiger did play two plays in a game. He got to run out the tunnel and onto the field. He got his name on the all-time Notre Dame football roster … and they made a movie about him - "Rudy."
Calhoun County's Red Devils didn't win the state tournament, but it did get to go to the "big dance."
Davis was just recognized as Player of the Year in the Little Kanawha Conference, and Houchin and Perkins were selected for the alternate teams.
It excited and invigorated the people of Calhoun County and all the alumni of the county's high school.
There has not been a movie about the magic season when the Red Devils ended an 81-yearn drought and finally got to the state tournament … but there could me.
The eclectic band of Red Devils offers all the possibilities of a good movie from an all-state ace to the 4.0-point guard to the team's walking miracle.
Sunday this precedent-setting team was honored by a dinner at the Knotts Memorial Methodist Church in Grantsville.
The grandfather of the all-state ace, a man who struggled through life-threatening surgery on his spine and a long recovery afterward, financed the dinner. He, too, is the thing of movies.
Robert "Tank" Davis, the grandfather of all-state ace Marcus Davis and the father of the team's coach, Tim Davis, sponsored the affair.
The elder Davis struggled for words to express his thoughts and feelings toward the team.
The dinner consisted of the meal and anecdotes from the players, coaches and fans.
The team is planning a gathering - tentatively set for April 10 - to honor the fans. "The fans have been unbelievably loyal to us and we want to do this to honor them and tell them thanks for supporting us," Davis said.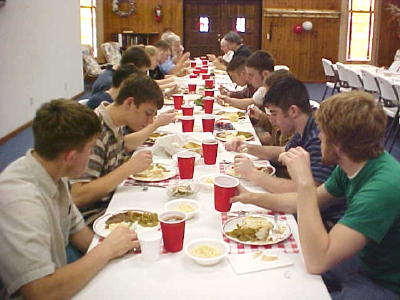 The team has a good appetite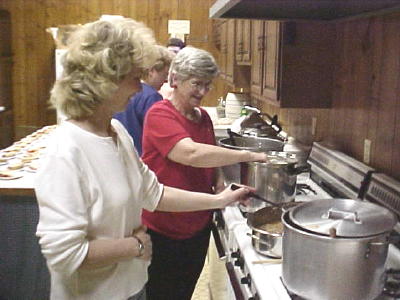 The event made possible by Knott's Memorial cooks