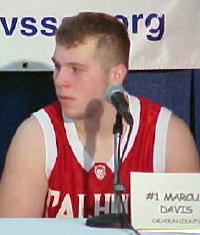 Calhoun's Marcus Davis has been selected LKC Player of the Year.

Jake Perkins and Zach Houchin have been selected for alternate teams.

The selection is sponsored by the Parkersburg papers.

Davis ended his outstanding basketball career at Calhoun High School breaking the school's scoring record and playing the most games ever during a basketball season.

The previous record was held by his father-coach Tim Davis.

"It's an honor," Calhoun County coach Tim Davis said. "He's been a gym rat ever since I can remember so it's nice to see all that hard work finally pay off for him." Marcus Davis closed out a fantastic four-year career at the Mt. Zion school by breaking the school's all-time scoring mark as well as the most games played by a Red Devil player. Both marks previously belonged to his head coach-and father-Tim Davis.

"I guess if a guy is going to have his records broken, it might as well be by someone in the family," coach Davis told the Parkersburg News-Sentinel. "But, Marcus did more than score points for our team.

Coach Davis said he was also one of our leading rebounders (8.9 pg), passers (3.3 apg) and defenders (3.5 spg).

He led the LKC in scoring with a 26.6 points per game norm, hitting 69 treys in the process (2.8 pg).

Davis has been a three-time all-LKC selection as well as a three-time member of The Parkersburg News and Sentinel and Marietta A.M. all-Mid Ohio Valley team. He was also chosen as the AP State Player of the Week three times.

He came to the top over a skilled cadre of LK players in the first team, according to the Parkersburg News and Sentinel:

Nick Dent, Gilmer County-In his final season with the Titans, Dent fought off a serious ankle injury to lead Gilmer County to the No. 1 ranking in the Mountain State. The senior guard averaged 24.1 points, 4.8 assist and 4.8 steals per game.

Brett Greene, Ravenswood-The winningest program in the LKC's Night of Champions, Greene was the driving force behind the Red Devils return to the championship podium at Parkersburg's Memorial Fieldhouse. A senior, Greene averaged 22.4 points and 9.1 rebounds per game for the Jackson Countians.

Curtis Ash, Doddridge County-Any time you took on the Bulldogs from West Union, the number one priority for the opposition was to stop-or at least slow down-Ash. Few teams were able to accomplish that feat, however, as the senior closed out his career averaging 25.7 points per game.

Nate Black, Parkersburg Catholic-The only junior on the first team, Black was Mr. Everything for the Crusaders in 2003-04. A first-team all state (Class A) football player, Black led the team back to the state tournament with an average of 13.1 points per game.

Jacob Lilly, Gilmer County-In his final season at the Glenville-based school, Lilly averaged 11.1 points per game for the No. 1 ranked Titans.

Andrew Tanner, Braxton County-Also a senior Tanner was among the team leaders for the Eagles in just about every category in 2003-04. In his final season he averaged 16 points per game.

Anthony Sayre, Ravenswood-The only sophomore on the first team, Sayre made sure team's couldn't concentrate completely on Greene. In his first year of varsity action he averaged 15.4 points per game as the Red Devils reached the regional finals.

Brandon Frame, Wirt County-A multi-sport standout, Frame was as dangerous with the ball as he was without it. In his final campaign the senior averaged 19.2 points per game, but was also the Mid-Ohio Valley's leader in blocked shots with 53.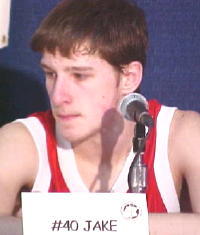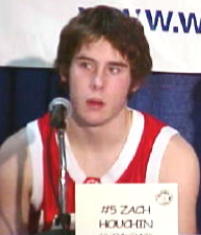 Second and Third team players, Jake Perkins and Zach Houchin
Second teams members were Ritchie County's Austin Jones, Williamstown's Wes Billups and Wes Merrifield, Jake Perkins of Calhoun (pictured left), Eric Workman of Clay County, Roane County's Derek Hardman, Braxton's Travis Chapman and Gilmer's Anthony Reale.
Third team members included Ravenswood's Brandon Smith, Catholic's Wes Tracewell, Braxton's Josh Cadle, Calhoun's Zach Houchin (pictured left), Gilmer's Seth Butler, Williamstown's Ryan Jobes, Doddridge's Dave Parsons, St. Marys' Shaun Bonner and Roane's Justin Bossert.
Receiving his fifth Coach of the Year award is Ravenswood head coach Mick Price.