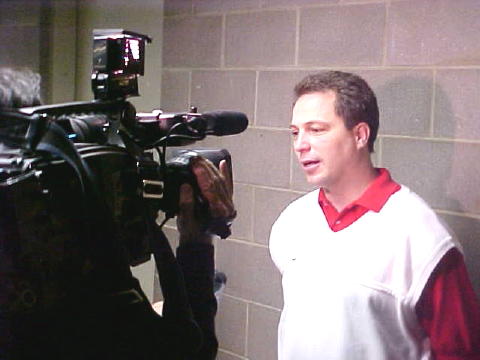 Coach Davis being interviewed by regional media
"It's a great team. We are grateful to our fans"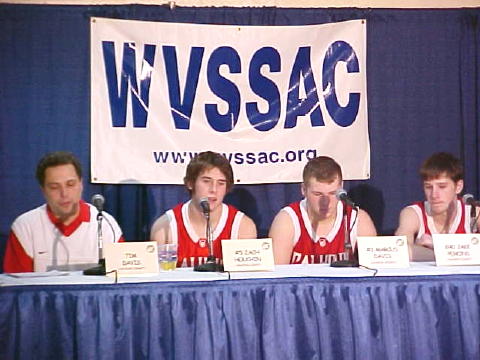 After game interviews, Calhoun's coach
and players reflect on "coming to the States"

By Bob Weaver

While many sports fans live and die statistics, it is important to believe the game is greater than the win and loss numbers.

Yesterday at the Charleston Civic Center, it was never more evident.

Coming to the floor were some outstanding young men, mostly honor students at Calhoun High, who have given a lot to the game, their team and themselves, this rare trip to the state basketball championship.

They make every Calhouner proud.

They spoke eloquently before a couple dozen reporters and TV cameras, sharing their thoughts about the experience and losing the game, but mostly about playing basketball.

Coach Tim Davis said "You have to be good to get here, and these guys are good."

After recounting the joys and sorrows of the game to reporters, Davis said "It has been something to get here with these wonderful young men."

"They belong to the Fellowship of Christian Athletes, and we all try to hold God up first. We have been blessed."

"Is really important to remember our supporters. They have been wonderful. They have made it worthwhile," he concluded, even for the anonymous donor who paid for the chartered bus.
Zach Houchin said, after the loss "It is still the greatest
feeling in the world being here. All the people at home gave us
so much support. I'll never forget it."
Marcus Davis (right) said he was somewhat fearful when he first came on the Civic Center court. "I've always wanted to come (the state tourney) and it has been one of my goals. It has been great."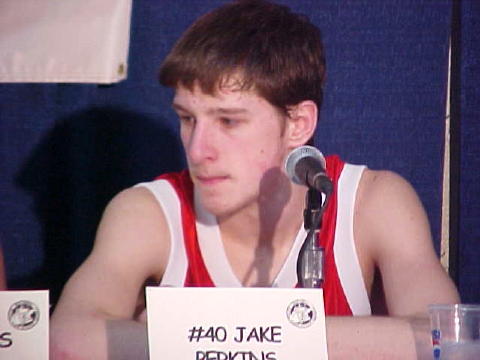 Jake Perkins said "It is a dream come true for me.
I hope to be back next year. (Perkins is a junior)