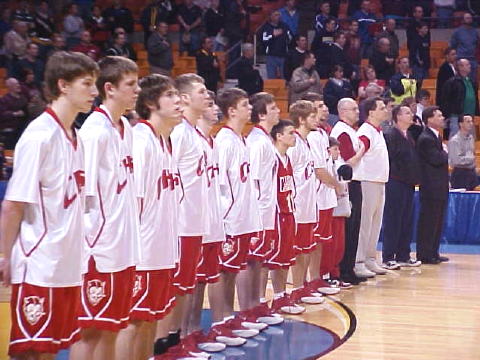 "You have to be good to get here" - Coach Tim Davis
Jake Perkins takes a leap during championship playoff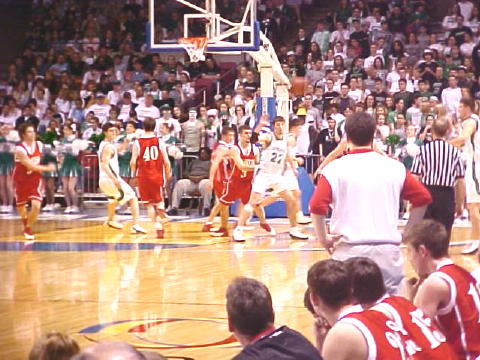 Coach Davis does his pacing and sitting routine
By Gaylen Duskey SPORTS EDITOR
Calhoun County's hopes of a dream ending - winning the Class AA state basketball championship - came to an end Wednesday morning at the Charleston Civic Center when it suffered a 68-50 loss at the hands of Winfield.
Three statistics tell why the dream ended.
First, Calhoun shot poorly, hitting 18 of 58 attempts for a miserly 31 percent.
Second, Winfield dominated the backboards out rebounding Calhoun 49-30.
Third, and this one probably has more to do with the first two statistics than can be calculated, Calhoun was whistled for 16 fouls to Winfield's 11.
And the Generals were 14-16 at the line compared to 5-8 for Calhoun.
But more than the total fouls the thing that really hurt was when the fouls were called and who they were called on.
When Jake Perkins picked up his second foul and was removed from the game Calhoun had a 9-8 lead. When Perkins came back in Winfield was in the midst of a 14-0 run and was on top 22-9.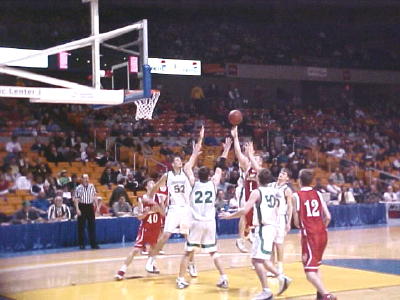 This one went in ...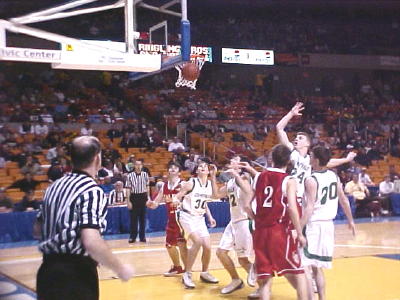 Calhoun fought back with scoring ...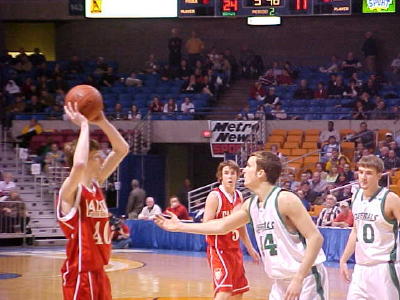 "Come on, give it to me"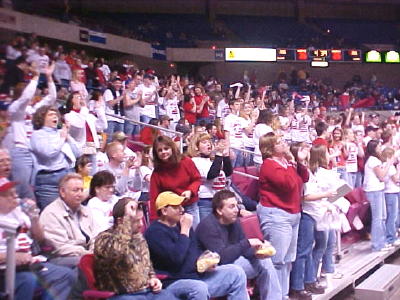 It looked like half the county was in Charleston,
enthusiastic fans stood during most of game
Without Perkins the Red Devils were forced to put leading scorer Marcus Davis inside the battle the big players from Winfield.
He had two three point shots before Perkins went out and added two more when he came back in.
But in between Winfield was able to clamp down on the talented senior. "Had the officiating be the other way around (the referees called things close outside but let the players bang away inside) things might have been different," Calhoun coach Tim Davis said. "But it wasn't and Winfield has an awfully good team."
Davis said, and was echoed by his players, that even more important than winning the state title was the great support of the Calhoun fans.
"It was wonderful … all these people took the time and effort to come here to cheer us on," Davis said. "That's what we won't ever forget."
The Calhoun fans, despite a rough first half, did have moments to cheer the team on in the second half.
The Red Devils trailed by 17 - 36-19 - at the half but made a determined run to get back into the game.
Calhoun scored eight straight points on two baskets by Davis and one apiece by Perkins and Tristan Harris to pull within nine, 36-27.
After a Winfield basket by Tyler Kovarik, the games leading scorer with 27 points, Calhoun went on another mini-run as Mike Batten canned a three-point shot and Perkins made one of two free throws cutting the margin to seven, 38-31.
Then Winfield's size and Calhoun's foul problems swung the momentum of the game back the other way as the Generals scored six straight to close out the third quarter with a 44-31 lead.
Calhoun rallied once more to cut the margin to 10 but after that Winfield shot eight free throws down the stretch to slowly pull away.
Davis led Calhoun with 24 points in his final game in a Red Devils' uniform. Perkins added 10, Batten eight, Harris four, Ryan 'Goob' Fitzwater three and Chris Sampson one. Although not scoring Calhoun point guard Zach Houchin, who like Perkins was hamstrung with four early fouls, dished out seven assists.
Shawn Hillegas, Derek Roberts, Tom Gerwig and Chad Conley all played but did not score.
With the win Winfield, 20-6, advances to play Westside High School in the tournament semifinal Friday at 9:30 a.m.
With the loss Calhoun ends its season with a 19-6 record.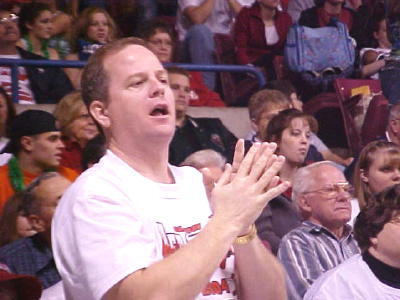 Rick Fitzwater has alway been a #1 fan, this time
honoring his son Ryan during his last high school game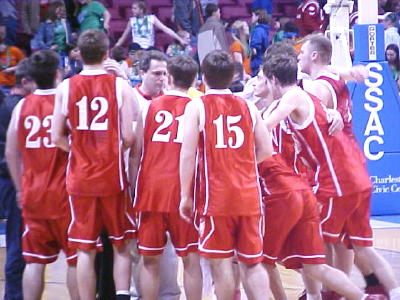 Moments after the defeat, the team huddles for prayer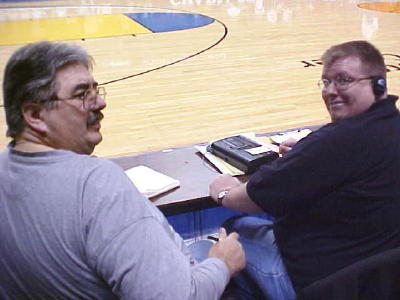 Sportswriter Gaylen Duskey and sportscaster Toby Wagoner cover court