Reprint from the Charleston Daily Mail

Mike Andrick
Daily Mail Staff

Tuesday March 16, 2004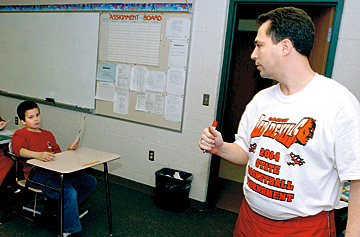 Calhoun County High School boys basketball Coach
Tim Davis sports a Red Devils 2004 state basketball
tournament T-shirt as he teaches class Monday
MOUNT ZION -- Over the past few decades, the population of Calhoun County has declined.
On Wednesday, it is likely most of the remaining people will leave the county.
They will be in Charleston for the state high school boys basketball tournament to support Calhoun County High School in its first-ever appearance in the tournament since the school opened in 1923.
"This is the biggest thing that's ever happened here," said Kelley Houchin, a lifelong county resident with three children, the oldest of whom is on the team.
"Because of the economics of this area, there aren't many things to be proud of," said Houchin, an accountant from Arnoldsburg in the southern part of the county. "This is something everyone can feel good about."
In 1980, the U.S. Census Bureau said more than 8,500 people lived in Calhoun County. But as the number of jobs depleted, so did the farming county's population. By 2000, it was down to about 7,500.
"Everyone knows everyone," said Sara Beecher, a 23-year-old Foodland employee who graduated from Calhoun County High in 1999.
Beecher remembers when current senior guard Marcus Davis would have her family's cars moved so he could practice basketball in the driveway when he visited his grandparents next door.
Just outside the Foodland was Davis' grandfather, the Rev. Carroll McCauley, sporting a grin and a red hat with "CALHOUN" on it.
McCauley moved to the county four years ago from Point Pleasant after retiring from the ministry. He now spends his time watching his grandson play basketball.
"It's been a good while," he said about the Red Devils' wait to make it to the state tournament.
"Eighty-one years and not counting anymore," Gaylen Duskey excitedly said as he walked by.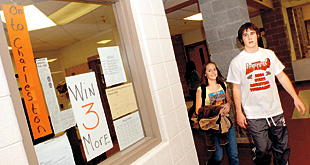 Signs and newspaper clippings hang in the secretary's office window at Calhoun County High School as senior basketball player Zach Houchin, right, 18, and senior Chelsie Hupp, 17, walk by. The Red Devils are making their first trip to the state tournament in the school's 83-year history
Every year Calhoun County qualifies wrestlers for the state tournament, and the football team even made it to the playoffs once in 1983. But after 81 years, the Red Devils have finally made it to the state tournament and it's the talk of the county.
"Ever since they won (defeating Oak Hill in the Class AA Regional 4 final Thursday), that's all anyone has talked about," said Biff Baker, who has lived in Calhoun County for 42 years, graduating from the high school in 1980.
As Baker ate lunch at The Koffee Kup in downtown Granstville, the county seat, 13 miles south on W.Va. 16 at The Y restaurant in Arnoldsburg, the topic of conversation is the same.
At The Y, Glenville State student and 2001 Calhoun graduate Samantha Moles is discussing her plans for skipping class Wednesday to attend the game. Moles' boyfriend, Ryan Dawson, won't be working on a towboat for American Electric Power that day either. "I'm not going to miss this for anything," the 19-year-old Dawson said.
That's the case with many who live or have lived in Calhoun County, including most of the high school's 345 students who are excused from classes for the "field trip" to Charleston.
"The county will be emptied out that day," said 45-year-old Mitch Morgan, a 1977 Calhoun grad, who drives the team bus to away games.
"They're a good bunch of boys, and we're proud of them," he said.
A sense of pride is something the basketball team's success has brought to the county.
"This brings people together and gives you something to be proud of," said Coach Tim Davis, a 42-year-old county native, 1979 grad and father to Marcus. "Every person in the community is part of this, and this should be exciting for them."
Muriel McCormick, who graduated from Calhoun in 1951, said nothing as exciting as this happened while she lived in the county for 20 years before moving to the Cleveland area to do work in hospital distribution.
"This is a small community that doesn't get recognized too much until something like this happens," McCormick said.
Recognition or not, the people of Calhoun County are excited and proud.
"Our community really supports us.This is an opportunity to give something back to them," Coach Davis said.
Moments earlier, school aide Sherry Butt asked him, "What time do we play Friday?"
Without hesitation, Davis answered, "9:30."
The answer wasn't conditional because everyone from Calhoun County is determined to win the whole thing.
Writer Mike Andrick can be reached at 348-1796.