Reprint from the Charleston Daily Mail

Mike Andrick
Daily Mail Staff

Tuesday March 16, 2004

MOUNT ZION -- Ryan Fitzwater is not the fastest player on the Calhoun County High School basketball team.

But considering less than three years ago doctors thought he might not live, he's doing pretty well.

"He's a miracle," said mother Melinda Fitzwater, a special education teacher at the high school.

On July 2, 2001, the summer after his freshman year, Ryan was returning a tractor home after cutting hay. On his way up a hill, he switched from high gear to low when the gear gave out and the tractor began rolling backward down the hill.

Brakes did not slow the tractor as it went up a bank and flipped on top of Ryan. The accident crushed Ryan's hip bones, shredded an artery that could not be fixed, separated his pelvis from his tailbone, nearly tore his left leg off and ripped a hole in his backside and hip.

Ryan's brother Michael was riding behind him when the accident occurred and watched as Ryan was put into the bucket of another tractor, where he lay in some of the eight pints of blood he lost. Medics soon arrived, and Ryan was at a Charleston hospital within an hour.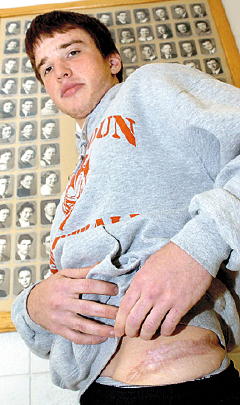 Ryan Fitzwater, a senior on the Calhoun County High School basketball team, shows a scar he received after a tractor he was driving flipped over and crushed him.
At first his very survival was at stake. Then there was the possibility he wouldn't walk again.
He spent three months in a wheelchair. He also had two three-and-a-half-inch screws in his hips, one leg a half-inch shorter than the other and a large scar on his hip.
But within six months of the accident Ryan was playing basketball for the Red Devils.
"I told him he didn't have to play sports," said father Rick Fitzwater, a branch manager of Calhoun Banks in Arnoldsburg.
But Ryan wanted to play.
"I didn't want to watch," he said. "I hate watching - I need to be out there."
"A lot of people said I wouldn't be able to play sports, and I wanted to show them I could again."
On Wednesday, he'll be with the team in Calhoun County's first appearance in the boys state basketball tournament.
Ryan also was the center for the school's football team. In the fall he will head to Glenville State College as a long-snapper.
"I expect my son to go on and do great things," his father said.
Ryan's dad said he is excited to watch his son and the Red Devils in the state tournament, but he also put it into perspective.
"Just seeing him alive makes me feel great," his father said.
Bob Weaver is a Calhoun County commissioner and next-door neighbor to the Fitzwaters in Hur, population 12.
"We're all just delighted he's going to have a good life," Weaver said. "Through his sheer determination to regain his active life in sports, he is now playing football and basketball.
"He's a real hero in some people's eyes for doing that."
Writer Mike Andrick can be reached at 348-1796.