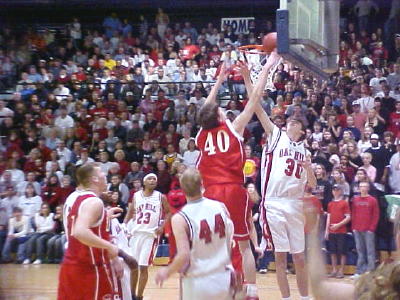 It was a fast paced game ...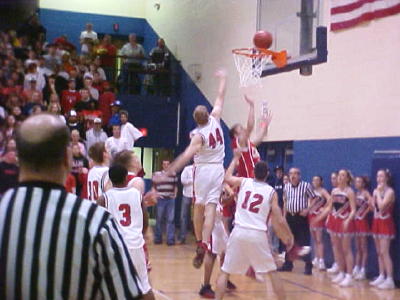 ... sometimes nip and tuck ...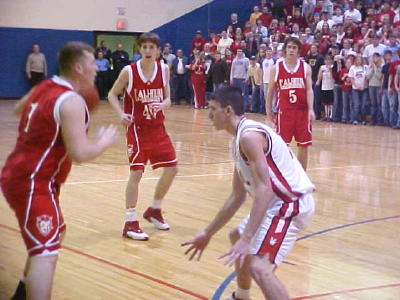 ... with Calhoun pulling it out right at the end
By Gaylen Duskey SPORTS EDITOR
There used to be three certainties in Calhoun County - death, taxes and the high school basketball team not making the state tournament.
Now there are only two as Marcus Davis' three-point play with 7.1 seconds remaining lifted the Red Devils to a 57-55 victory over Oak Hill Thursday night in the Region IV championship game.
With the win Calhoun advances to the first round of the Class AA West Virginia High School Tournament.
The Red Devils will play Winfield in the first game of the tournament Wednesday at 9:30 a.m. in the Charleston Civic Center.
The victory before a standing room only crowd brought bedlam as Calhoun fans rushed the court celebrating the school's first state tournament appearance.
"I'm thrilled … we're going to Charleston," said a teary-eyed Davis after the game.
"It's been long enough … I'm glad we're finally there," said his father, Tim, the Calhoun County coach. "You can't imagine how good it feels."
He was probably wrong as Calhoun fans of all ages were celebrating all around him. They all could imagine how good it felt.
And none more than Marcus' grandfather Robert 'Tank' Davis, a former Calhoun basketball standout who is now recuperating from spinal surgery. He sat in his wheelchair with his emotions streaming down his cheeks saying, "He did it … Marcus did it."
That he did. His singular heroics on the last basket were a coup de grace on what was a tremendous overall team effort. He had 30 points. Zach Houchin had 10 assists.
Jake Perkins had 13 rebounds. Shawn Hillegas played tenacious defense and took Oak Hill's point guard Marcus Grasty out of the game.
Tristan Harris and Mike Batten gave solid performances in starting roles and Chris Sampson and Tommy Gerwig were strong off the bench.
The game was nip-and-tuck throughout with Calhoun spurting when the athletic Perkins was able to avoid foul trouble and sputtering a little when he was not.
With Perkins in the game Calhoun jumped to a 13-5 lead.
Then he got his second foul and was taken out of the game.
Oak Hill battled back and trailed by one, 20-19, after the first quarter.
Oak Hill took a 31-28 halftime lead as Perkins sat out the entire second quarter.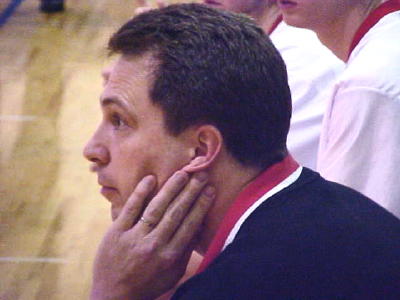 Coach Davis, who paces and sits, becomes tense in the last minutes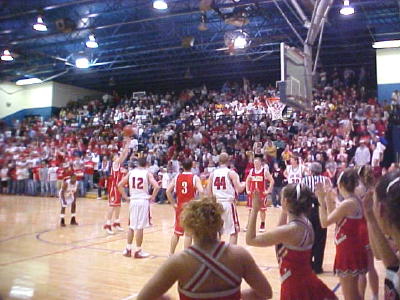 A packed house watches regional event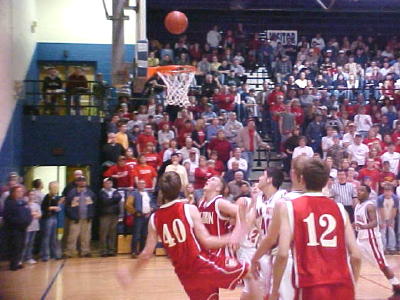 Fans raise the sound level to new heights
as players deliver a game "worth the money"
The 6-3 junior returned to the starting lineup at halftime and immediately went on a tear scoring nine of the Red Devils' first 11 points as Calhoun jumped on top of Oak Hill 41-35.
Perkins would finish with 14 points.
But Oak Hill, which went to the championship game before losing to Magnolia, was not about to lie down and die. Instead it battled back and was on top 46-43 heading into the final quarter.
Calhoun rode the scoring of Davis back on top and then the teams traded baskets before Oak Hill went ahead 55-53 with 46.5 seconds to go.
Then Calhoun got the ball back and Davis scored the winning points.
Calhoun goes into the state tournament with a 19-5 record.
Oak Hill, which finished with a 17-8 mark, was led in scoring by Michael Donnelly with 27. John Lafferty with 12 was the only other Oak Hill player to score in double figures.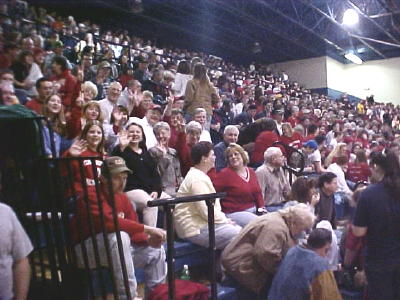 Calhoun fans get ready for game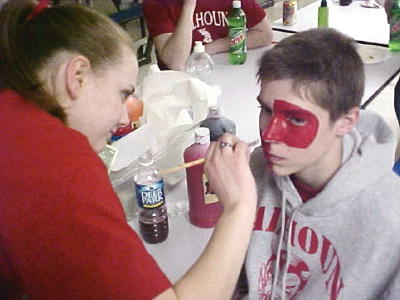 Fans get "face-painted" before game begins