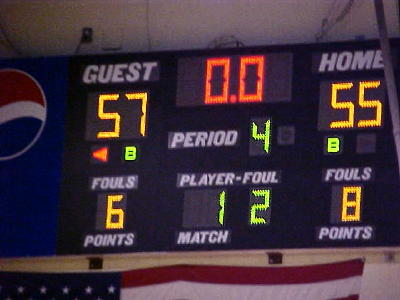 The scoreboard told the tale of a hard played win last night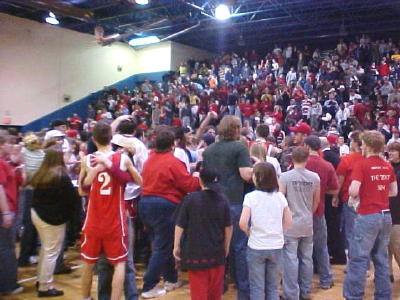 Calhoun fans rushed to the court in frantic
celebration seconds after the game was won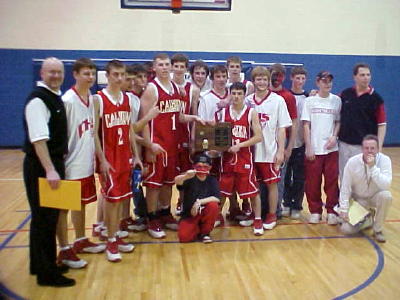 The team lined up for an official picture
Frenzy is a word to describe last night's basketball victory for the Calhoun Red Devils.
It was the first time in the 80 plus year history of Calhoun High School that the school will be going to play in a state championship, and there have been some pretty good teams over the years.
The school will play in the state basketball championship next Wednesday in Charleston against Winfield starting at 9:30 a.m., the first game of the state tourney.
The Red Devils defeated Oak Hill last night 57-55 in a nerve-rattling game, winning the West Virginia SSAC 2004 "AA" Basketball Regional Championship at Fayetteville.
A large contingency of Calhoun fans rushed to the floor seconds after the game was over in a victory celebration, and quite a celebration it was - hugging, hollering and jumping. It went on for nearly a half hour.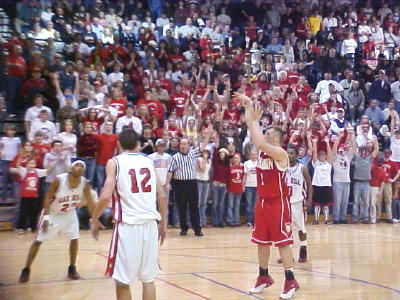 Davis helps cinch a victory in the last minute or so at the foul line
Old-timer "Tank" Davis, father of coach Tim Davis and grand-father
of Marcus Davis holds winning plaque while fans celebrate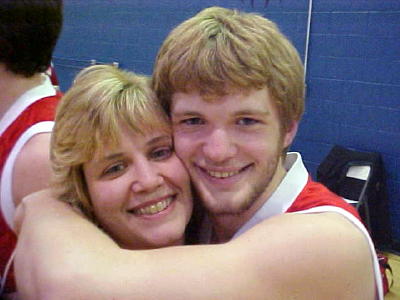 Derek Roberts hugs mom Connie
Coach Tim Davis was well aware of the record breaking event, and what opportunity is ahead for the Red Devils as they head to the state tournament.
Calhoun County Sheriff Allen Parsons and some of his officers met the school buses and Red Devil team returning from the game at the Big Otter I-79 exit late last night, giving the winners an escort to the school.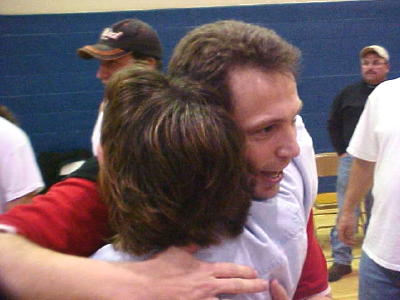 Coach Tim Davis gets lots of hugs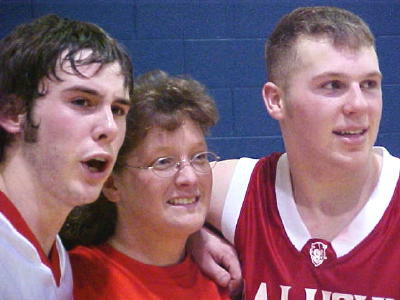 Houchin, Miller and Davis share some victory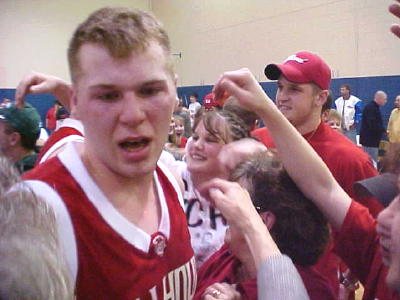 Marcus Davis has tears of joy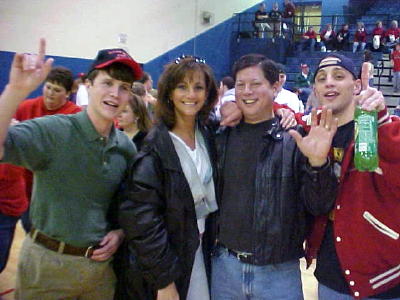 Fans join players in celebration