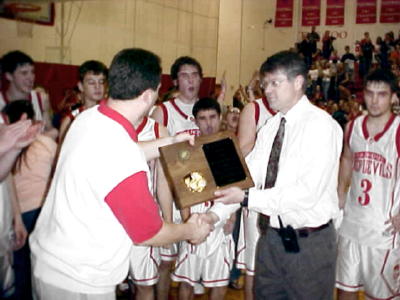 Principal Mike Offutt presents championship plaque to Red Devils ...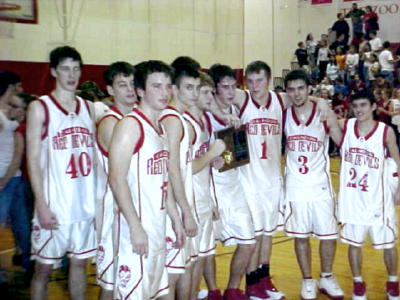 ... after which the players, surrounded by fans, cheer the victory ...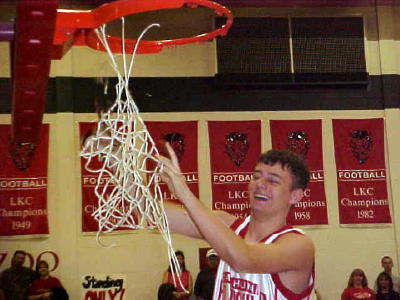 ... and "tear down" the championship net
By Gaylen Duskey SPORTS EDITOR
As teen-agers with blades sliced away at some basketball equipment grown-ups cheered them on.
Calhoun Middle/High School Principal Mike Offutt stood off to the side with former athletic director Roger Propst. Both were beaming.
"Look at that vandalism," someone joked. "And right in front of school officials."
"That's vandalism we like," Offutt said.
Actually it was not vandalism - it was just the post game ritual of cutting down the nets after winning a championship.
And win a championship the Red Devils did, beating Roane County in the Class AA Region IV, Section I championship game, 57-52 Friday night.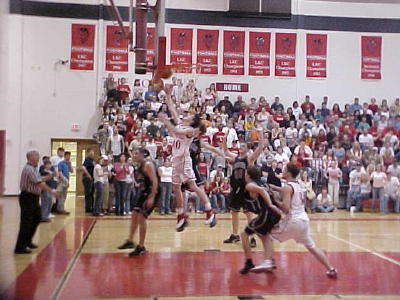 It was a frantic on-your-feet crowd during last quarter action ...
... here Houchin pushes the ball forward ...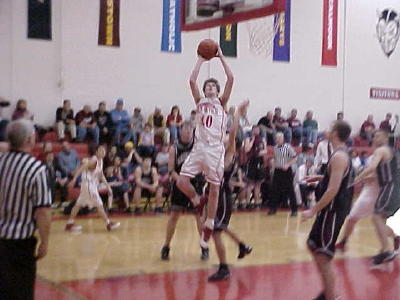 ... with another up, up and away movement ...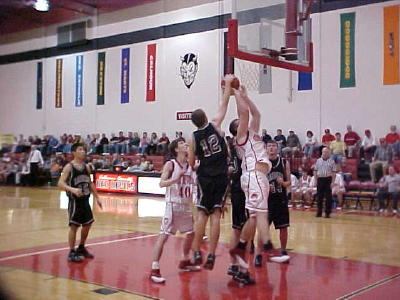 ... as the Red Devils slip past Roane
Although Roane County never led and the game and was never tied, Calhoun could not make the pesky Raiders go away and it was a game right up until the end with the Red Devils not putting things away for good until the last few seconds.
Roane, which finished the season with a 10-14 record, stayed close and made a run at the Red Devils in the fourth quarter cutting the lead to three, 51-48, with slightly more than a minute to go on a basket by Justin Snyder.
But that was as close as the Raiders were to get, as they had to foul in an attempt to stop the clock and get the ball back and it almost worked. But Calhoun made enough foul shots down the stretch to keep the Raiders at bay.
Chris Sampson hit one of two free throws to put Calhoun back on top by four, 52-48.
The Raiders were unable to score when they got the ball back and had to foul again.
Marcus Davis hit both free throws to give Calhoun a six-point lead with :48.5 remaining.
Roane countered with a basket by Brett Abbott.
Again Davis hit a pair of free throws to give Calhoun a six-point lead, 56-50, with :34.5 remaining.
Brandon Cline scored on the other end of the court to make it a four-point game but time was on the Red Devils' side and a free throw by Jake Perkins with :5.6 remaining set the final margin setting off a celebration in a near-capacity gymnasium.
With the win Calhoun goes to 18-5 on the season setting a school record for victories.
It also advances the Red Devils into the Regional IV championship against Oak Hill, a 72-69 winner over Braxton County, Thursday at Nicholas County High School. Game time is 7 p.m.
Davis led the Red Devils with 17 points, nine rebounds and four steals. Jake Perkins added 12 points and 10 caroms. Mike Batten added nine while Tristan Harris pumped in eight and Sampson seven. Zach Houchin, while scoring only two points, had nine assists and eight steals while quarterbacking the Calhoun attack.
Shawn Hillegas added two while Derek Roberts, Ryan 'Goob' Fitzwater, Tom Gerwig and Chad Conley played but did not score.
For Roane Abbott led the way with 16 points while Snyder added 15 and Derek Hardman 13.
Calhoun fans were on their feet much of the game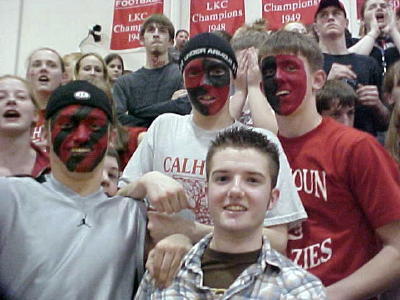 These fans did some face-painting for the game