Basketball seniors before the game: Derek Roberts, Zach Houchin, Marcus Davis and Ryan Fitzwater (rear-left to right) and Shawn Hilligas (front). Not shown Chris Sampson
Here is sportswriter Gaylen Duskey's rundown on the Class of 2004:
Marcus Davis: I used to think that Phil D'Orazio was the greatest player in Calhoun High School history. Now I am not so sure. Marcus does a lot of things that Phil did not do because Marcus is a different kind of player - he's bigger and stronger. Marcus can be a scoring machine as evidenced by his 44 points against Herbert Hoover in the Red Devils' last game. But there's more to his game than that. He's an outstanding rebounder and a good ball handler … or, as they say, an all-around player. I was sitting at the scoring table talking to a guy from Herbert Hoover Tuesday night and mused, "I hate to see him graduate." The guy from Herbert Hoover simply said: "I can see why."
Zach Houchin: One of the big reason Marcus scores so many points is that Zach gets him the ball. As the point guard on the basketball team Zach assumed the exact same roll he had on the football team - the quarterback. Zach isn't the fastest guy or the greatest shot on the court, although he does fine he is fine in both categories, but he IS (with a capital I and S) the floor general. When he has the ball, it is his show.
Chris Sampson: Who knows how good he could have been had he been able to play his entire senior season. He could start - and maybe should start - but he is so valuable off the bench when he comes into the game because he is a spark for the Red Devils. He's very quick and very athletic and when he's on very dangerous from the field.
Derek Roberts: For a relatively short guy Derek has been an awfully good guy around the basket. Somehow he has managed to snare an awful lot of rebounds away from guys who often stand a half-foot taller. Another thing Derek brings to the court is extreme quickness. I enjoyed watching him in football … I enjoy watching him in basketball too.
Shawn Hillegas: They call him "Little" because he is. On a "tall" day he may hit 5-4. But he does so many things right that his lack of height has never been a problem. He's a great press breaker when handling the ball and a tremendous pest when the other team has the ball. He's also not a bad shot. One of the plays I will remember for a long time was when he sat a pick for Roane County's Derek Hardman. Shawn bounced off him like a pinball off a cushion and Hardman broke out into a big grin. But Shawn had done exactly what he needed to do at the time … he freed a Calhoun player up for a shot.
Ryan 'Goob" Fitzwater: How can I say I consider him my hero? I mean I am a 56-year-old man and he is a 17-year-old kid but his life the past three years has been nothing short of heroic to me. He was crushed in a horrible farm accident that nearly killed him. They said he might not walk, but he did. I still get chills and choke up a bit when I remember the homecoming game with Wirt County a couple of years ago when he got out of his wheelchair and walked through the tunnel made for the football team. I was not the only one standing on my feet cheering and wiping back tears … there were a sea of people doing that. They said he would not be able to run again, but he ran well enough to play sports. He played a lot of football - starting on many occasions - and has seen quite a bit of basketball action. Who knows how good he may have been had it not been for the injury? It's sad it happened. But his courage and perseverance taught us much, much more than any mere high school athlete ever could.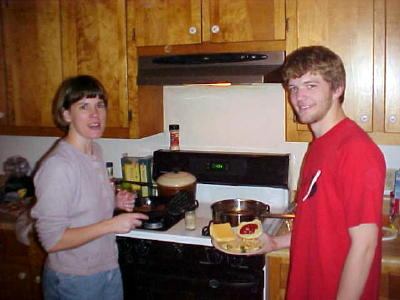 Derek Roberts gets his supper from Melinda Fitzwater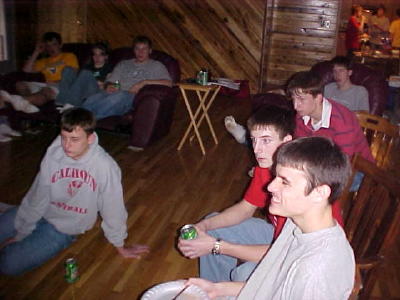 No they're not watching a game tape, just a movie comedy
It was pre-game food yesterday evening for Calhoun's basketball players at Rick Fitzwater's house in downtown Hur. Melinda Fitzwater had planned a big pasta dinner, but the team requested their all-time favorite, hamburgers with all the trimmings.
Rick Fitzwater has been the "Voice of the Red Devils" for Calhoun football for several years, but even more importantly to the Fitzwater family, their sons, Michael and Ryan have been active in football and basketball. Michael is a student at Glenville State and Ryan "Goob" is graduating this year with the class of '04.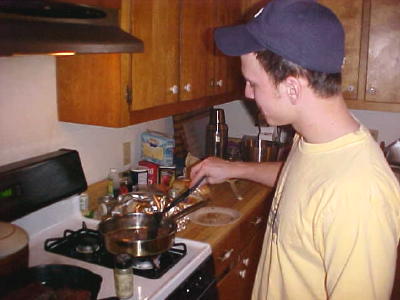 Old-timer Mike Fitzwater rustles burgers for the team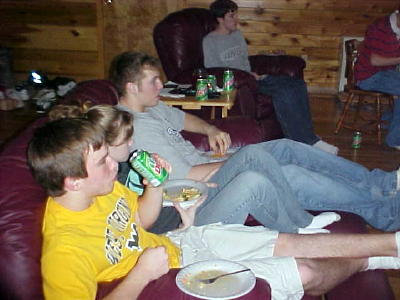 It's time to relax before the big game
The Fitzwaters have been "feeding" CHS sports teams for several years