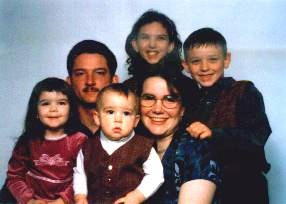 The Stewart Family
By Suzanne Mazer Stewart
MSZFROGGIE@aol.com
Of all the roles we wives and mothers must play, the hardest for me is perpetual-keeper-of-all-things. My family is under the assumption that I have nothing better to do, it seems, than to keep track of all the assorted bits that they themselves can't seem to remember the whereabouts of. My theory is this: If it's not important enough for you to keep track of, why should I? However, that doesn't always work. Sometimes, the lost article is too important to remain un-found.
Our littlest tadpole has a knack for losing his shoe. (That's singular, not a typo.) Sometimes left, sometimes right, but never both at the same time. Both I could understand. How on earth, though, do you lose just ONE shoe? We are not in the habit of allowing the children to walk about only wearing one, nor do we let them wear two different ones at the same time. So, it takes some kind of serious talent to consistently misplace one, I suppose. And, of course, you never find it in a place where shoes should logically be. No, his shoes tend to end up in the onion bin, the bathtub, the bottom drawer of his dresser, on his chair at the dining table. Whenever asked about it, he just shrugs, smiles his sweetest smile and lisps, "Bad thoo." I can't tell you the number of times those "thoos" have made us late for church, story hour at the library and once for lunch at grandma's house.
Let's not forget the littlest princess's "Jolly". He's a poor bedraggled looking rag doll clown, but he's still her man. He often comes up AWOL, but she can't sleep without him, and he HAS to go every where she goes. That's his problem - he's too well-traveled. He's been found everywhere from under the couch to lying in the middle of Main Street. Fortunately for us, he's survived every one of his mishaps, albeit he did have a close one with that logging truck uptown.
The adults are not immune to losing rather indispensable items, either. Brian recently misplaced the checkbook. A fevered search of vehicles, coats, pants, and the laundry basket (we'd learned our lesson - see below) turned up nothing. Of course, I was initially blamed for having misplaced it. (My, how quickly they turn on you!!) Just when all hope seemed as gone as the checkbook, he remembered he had put it in the toolbox on his four-wheeler. His reason for it being there: He didn't want it to get lost while out riding.
I will admit that I have had my share of missing items, too. Mine do tend to be a bit more ordinary, like earrings and pens. And then there was the time my entire key ring came up missing from the hook on the wall. My key ring is four inches in diameter and weighs just slightly less than the tadpoles, most of it filled with smaller key-rings with cute sayings like "Mom's Taxi." Not something easily lost, I assure you. A fervent search of coat pockets, kitchen counters, diaper bag and the car revealed nothing. I had finally given up and decided we weren't really going to starve if I didn't go grocery shopping that day. That was when my keys magically reappeared, lying peacefully in the laundry basket, (I told you we'd get to that part). I guess they were tired of the scenery from high up on their key hooks and needed a change of view.
So, if you ever see me on the front porch on my hands and knees looking desperately between the floorboards with a flashlight, or catch me frantically searching through dirty socks dumped in the middle of the dining room table instead of calmly walking out the door for church, don't ask. I haven't lost my mind. I haven't lost anything, actually. Just start looking around, please. They're brown high tops, toddler size 8.