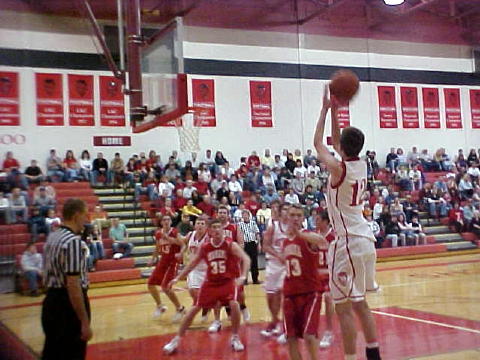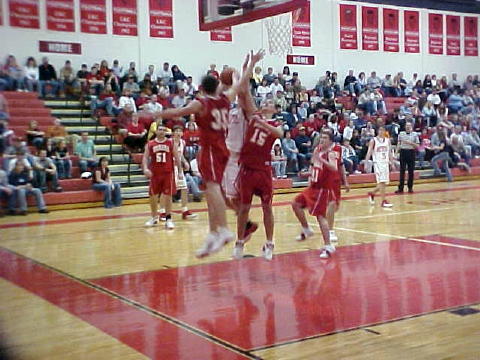 By Gaylen Duskey SPORTS EDITOR
realfang@citlink.net
Zach Houchin needed nine assists going into Saturday night's game to set a season assist record.
Nine!
Houchin got a couple pretty quick then Calhoun started shooting like, well, like the proverbial "bull and the bass fiddle."
The Red Devils missed a bunch of shots from very close in, including several lay-ups.
But he finally grabbed the mark when he hit a streaking Shawn Hillegas with a pass with about five seconds remaining … it was the final points in the Red Devils' 67-45 victory over Wahama.
That last assist gave Houchin 161 on the season breaking the single-season mark of 160 set in 1994 by Jason Metz.
The way Calhoun assistant coach Tim Moore figured it Houchin probably should have set the record as early as the first quarter.
"Just from the lay-ups we missed he should have had 24 tonight," Moore said.
""Don't laugh," Calhoun coach Tim Davis said. "The irony of how Zach set the record made it interesting but it wasn't funny. We missed way too many shots. We can't do that in the next game (Calhoun will play the winner of Roane-Clay Friday night in the championship game of the sectional tournament) or it'll be our last game."
Because of all the sputtering by the Calhoun offense Wahama, which had won two of its first 20 games, was able hang with the Red Devils for a long time.
The White Falcons actually jumped on top of Calhoun by a 7-2 count before the Red Devils rallied to tie things. It was back-and-forth the rest of the first quarter before Calhoun settled in with a 17-13 lead at the end of one.
The Red Devils added one and were on top 28-23 at halftime.
In the second half the Red Devils slowly started pulling away as Jake Perkins, who had no points and no rebounds in the first half, finally hit his stride to join Marcus Davis and Houchin as offensive threats.
Calhoun was on top by 18, 51-33, at the end of three quarters and would end up winning by 22.
But Houchin would not get his record tying and record-breaking until the final 1:21 of the game.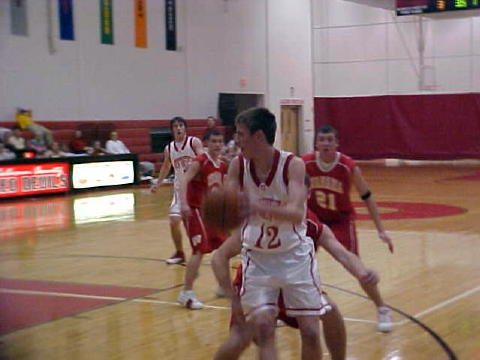 The record-tying assist came on a long lead pass from Houchin to Perkins.
The record-breaking assist came a little harder as Calhoun muffed a couple of easy chances leaving the senior point guard tied with Metz.
The record-breaking assist came after Wahama scored a pair of free throws with 10.2 on the clock. The Red Devils raced down court and Houchin hit Hillegas and Hillegas hit a short jumper and the record was broken.
"He (Hillegas) really got up there," Houchin said. "I was afraid I had thrown it too high."
Overall, Houchin finished with 11 points and nine assists. Hillegas, who gave the record to Houchin, had four points.
Davis led Calhoun, now 17-5, with 32. Perkins had 16 points and eight rebounds while Harris had four points and eight rebounds.
Mike Batten, Derek Roberts, Ryan 'Goob' Fitzwater, Shawn Hillegas, Chris Sampson and Chad Conley all played but did not score.
Davis said even though Batten and Sampson failed to score they played "great defense."
Wahama, now 2-19, was led by Aaron Faulk with 15.
Calhoun won the junior varsity game 57-37 as Gerwig scored 19, Tyler Shartiger 16, Conley 12 and Victor Carpenter 10.