By DAVID WALSH - The Herald-Dispatch

Jeff Gentner-The Herald-Dispatch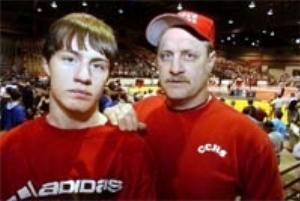 Calhoun's Justin Ashley and his father Matt have
a combined six W.Va. State titles between the two of them.
HUNTINGTON -- When it comes to decorated families in West Virginia high school wrestling, the name Ashley is one that quickly comes to mind.
Matt Ashley got the state championship ball rolling in 1976 at Spencer High School when he won the first of four consecutive state titles. He competed at 98 pounds that year, the same year West Virginia first recognized two divisions -- Class AAA and Class AA-A. He followed with championships at 105 in 1977, 119 in 1978 and 132 in 1979, the year he also was named as the Outstanding Wrestler in Class AA-A.
Ashley's brother, Malcolm, started a three-year title run in 1981 when he competed at 126 for Spencer. He transferred to Calhoun County in Mt. Zion and took home titles at 145 in 1982 and 155 in 1983. In 1983 Malcolm Ashley won the Outstanding Wrestler award in Class AA-A.
Terry Kendall, Matt Ashley's brother-in-law and an assistant coach at Roane County, owns two state titles.
Now comes Justin Ashley, Matt's son, who is a senior at Calhoun County and working toward his third state crown in the West Virginia High School Wrestling Championships at Big Sandy Superstore Arena. Justin Ashley prevailed at 112 in 2002 and 125 last year. He came to the 2004 tournament as the Class AA Region IV champion in the 130-pound weight class with a 38-1 record. He won twice Friday to reach tonight's championship match. He beat Jesse Mahan of Oak Glen in the semifinals, 4-2. He meets David Haws of Bridgeport for the title.
The 18-year-old didn't make it to the state tournament as a freshman because of an injury, so he won't match his father's collection of four state titles.
I knew this was my last year and my goal was to make the best of it," Justin Ashley said after his first-round win Thursday night. "I knew all about Dad. I grew up around him and everybody told me about him. He was one of the best. He's taught me about everything I know."
Mike Stump, who wrestled for Calhoun County from 1967-70 and now is in his 18th year as head coach of the Red Devils, said the younger Ashley has handled all the attention he's received this season.
"He's dedicated to wrestling," Stump said. "He works hard. He lives, eats and breathes wrestling. We knew the names out there. Coming down here, his goal was to take it one match at a time."
Matt Ashley watched from the stands with fellow Red Devils supporters the first two years his son had his hand raised as champion. This year it's different because he is working as a volunteer assistant coach. That gets him down by the mat on occasion. He was on the mat for the semifinal match.
"I told him the initial score would be important," Matt Ashley said. "He got the lead and kept it.
"Mike (Stump) asked me to help. We communicate better. I can come and go as I please. I teach technique to the whole group. The rest of the time I'm in the background."
"He hasn't overstepped his bounds," Stump said of Matt Ashley, whose day job is raising horses. "What an asset to have."
After practice, there's a good chance father and son will devote even more time to the sport they both love.
"He gets most of the coaching at home," Stump said of his team captain.
"When we get home, we watch a lot of video and do one-on-one work," Matt Ashley said.
In mid-season, North Marion's Justin Lodge defeated Ashley in the finals at the Pat Vance Nitro Invitational. It ended Ashley's streak of 104 straight wins.
"He was a little on edge, too conservative," Matt Ashley said of his son's performances prior to the loss. "That got him more at ease. Now he opens up. He takes what he's got and uses it."
Stump said there's not that much difference between Justin Ashley as a sophomore and a senior.
"From day one, he's been tough," Stump said. "The only difference is he's bigger and tougher. His life has been based around wrestling. His desire has never wavered."
"I'm stronger and have more variety in my moves," Justin Ashley said. "I've gotten better on my feet. Dad stays after me. He gets me ready physically and mentally."
Justin Ashley also gets strong support from his mom, Billie Jo, and sister, Amy, who keeps statistics for the team.
As for personality, Matt Ashley said he and his son are opposites.
"I was hyped up, a bulldog," Matt Ashley said. "No finesse. Justin's laid back. He's more technical than I ever was. That's hard for me."
Matt Ashley said it will be tough tonight when his son's career comes to an end.
"I've been tickled to death with him," he said. "He's a good student and good socially. Inside and outside the wrestling room, he's a worker."
"To me, if he wins, it means another state championship plaque on the wall at school," Stump said. "I'm sure it'll be quite special at their home. They've been quite a team."
As for having championship hardware on display, Matt Ashley said, "the outstanding wrestler award I got my senior year is out. I've got the rest boxed up in the garage. Matt's are scattered all around the house."
With plenty of room still remaining for one more should the occasion arise. That chance comes tonight.