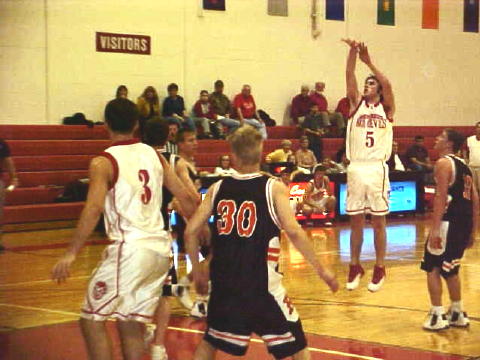 "Free floating" to victory over Richwood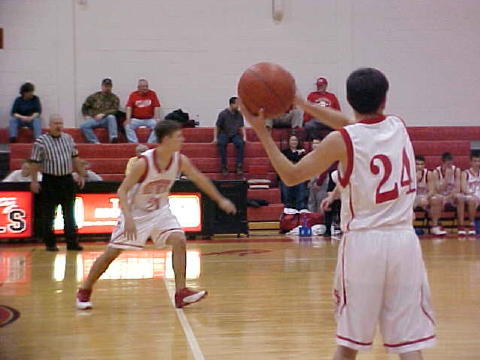 Calhoun had a surge in second half
By Gaylen Duskey
Wayne Denham was a small college All-American during his playing days at Fairmont State College. He now serves as a volunteer assistant for the Calhoun County High School basketball team.
Denham knows basketball and when he talks … you listen.
"We (Calhoun) have a tendency to play down to the level of the competition," he said. "Sometimes, like when we played Doddridge, it bit us. We did it again tonight … at least in the first half."
He was exactly right about Calhoun's 69-44 Senior Night victory over Richwood Thursday.
Calhoun played with the Lumberjacks from the beginning, much like a cat plays with a mouse. The only trouble was the mouse kept fighting back.
The Red Devils scored the first nine points of the game and were on top 12-2 midway through the first quarter. However Richwood came back and got within six, 12-6, before Marcus Davis made two free throws to make it 14-6 after one.
Calhoun then roared out to an 11-point lead, 22-11, and was on top by 12, 28-16, when they went into another swoon. Ten points later Richwood was within two, 28-26, at intermission.
But the second half was a different story.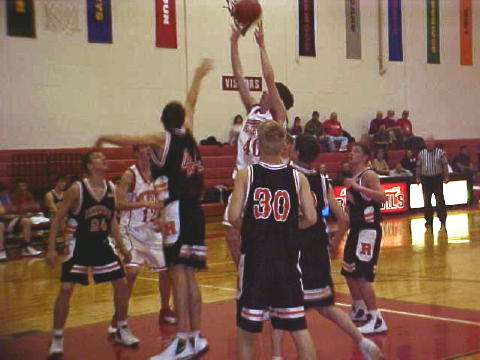 "Hey, gimme the ball..."
The Lumberjacks hung tough for a little while and trailed by only five, 41-36, midway through the third quarter. But that was as close as Richwood was to get the rest of the way as Calhoun scored eight straight to take a 49-36 lead after three.
The fourth quarter was not pretty if you happen to be a Richwood fan. Calhoun outscored the Lumberjacks 20-8 to win going away as coach Tim Davis substituted liberally.
For Calhoun, now 16-5, Davis led the way with 23 points. He also had nine steals and six rebounds.
Jake Perkins who had 19 points and 12 rebounds backed Davis. Tristan Harris, Mike Batten and Zach Houchin had nine each. Houchin barely missed on a "double-double" as he dished out 10 assists.
Shawn Hillegas added two while Ryan "Goob" Fitzwater, Derek Roberts, Chris Sampson, Chad Conley and Tommy Gerwig all played but did not score.
For Richwood, now 6-14, Travis Mullins led the way with 15.
Richwood won the reserve game, 47-42, as Calhoun County finished with only three players on the floor after three others fouled out. The Red Devils have only six players on the reserve team.
The strange loss clouded an other wise great comeback by the Red Devils who rallied from 21 points down, 41-19, in the fourth quarter. Gerwig led the way with 14 while Conley had 11.
Calhoun plays its final regular season game of the year Saturday night when it plays host to Wahama.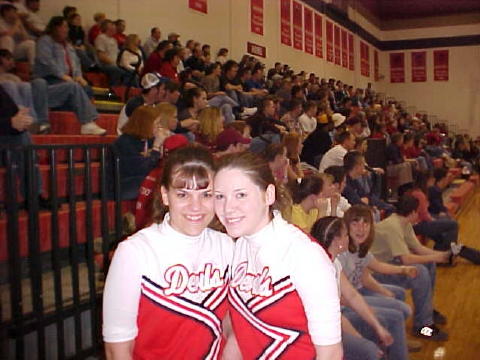 A good crowd attends last night's game at Mt. Zion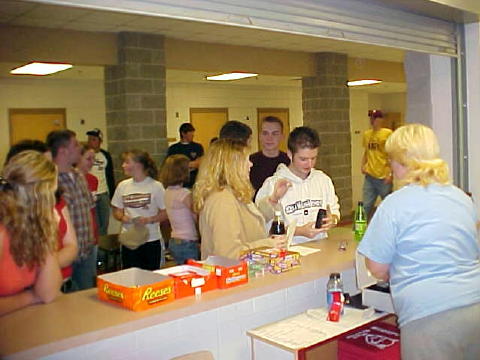 Last but not least, the line grows for those great hot dogs