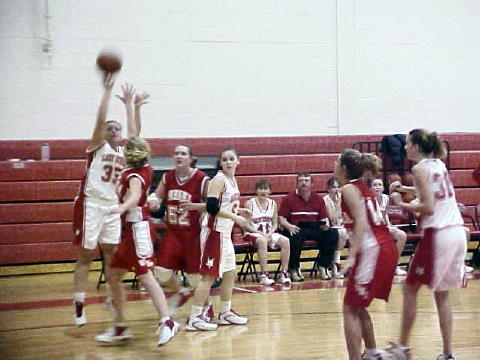 It was 62 to 47, Huffman Scores 32
By Gaylen Duskey SPORTS EDITOR
In the end it was just a matter of too much Julie Huffman.
The Wahama senior scored 32 points as the White Falcons put away Calhoun County Wednesday night, 62-47, in the Red Devils' last home game of the season.
Calhoun led early and had the White Falcons on their heels with a lead that stretch too as much as nine points.
But the Red Devils could not administer a killing blow.
Instead Wahama fought back from a first quarter deficit -16-13 - and grabbed the lead early in the second quarter - 18-17 - and slowly began the process of pulling ahead for good.
Wahama was on top 35-29 at the half setting up a Calhoun surge. The Red Devils pulled even on a couple of occasions and were down by only four - 47-43 - at the end of the third quarter.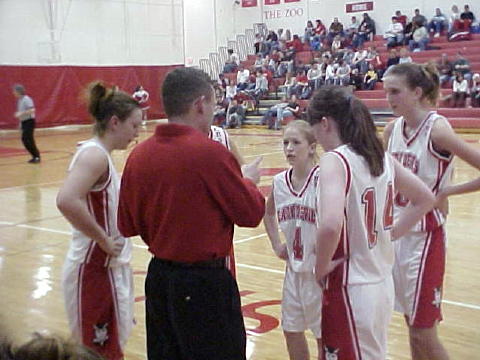 Coach Doyle Hupp huddles with his team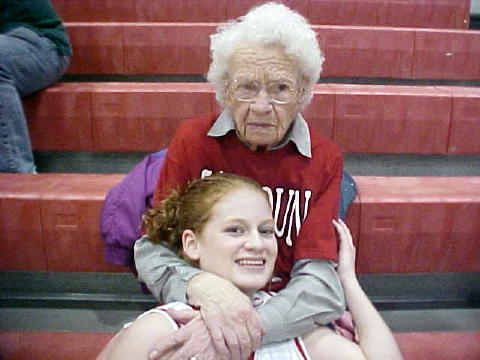 92-year-old basketball fan Georgia Stump
cheers-on her great-granddaughter Katie Hupp
And then the roof fell in. Or, more precisely, Huffman fell on the Red Devils, scoring about half her game high 32 points as Wahama outscored Calhoun 15-4.
For the game Huffman, a 5-8 senior who is headed to Concord College, scored 32. Sophomore Keith Anne Sayre with 17 backed her.
Ashley King scored 17 to lead Calhoun. Dani Church added 13, Amber Williams seven, Katie Hupp six and Courtney McKown four.
Calhoun won the junior varsity game 32-17 as Hannah Law scored 10 and Grace Keiffaber eight.