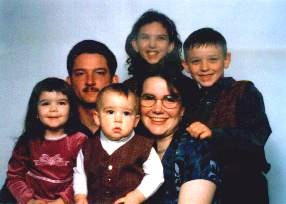 The Stewart Family
By Suzanne Mazer Stewart
MSZFROGGIE@aol.com
Judging from the conversation around the coffee pot in the church kitchen at today's ladies' meeting, some of the Valentine's Day goings-on around here flopped bigger than a bullfrog off a log on a hot day. I guess certain "significant others" did not review the rules for romantic doings set down for them in plain language here in The Frogpond. So, in an effort to salvage a few couples from the rocky roads of romance gone horribly wrong, let's look at a few situations at hand and see just what went awry.
Becky Lou was very excited when Bobby Joe told her he was taking her out for a candlelight dinner. What somebody needed to remind Bobby Joe was that the little sputtering flames on the tables at Pizza Palace DO NOT count when referring to the romantic sort of candlelight ... and ordering the "Meat Eater Man's Special" pizza for himself and the salad bar for her, saying "Aw shucks, Becky Lou, you only ever eat salad anyway" was not exactly Becky's idea of "dinner" either ...
And then there was Shirley and Lowell's disastrous "night out." They drove for over an hour to someplace "you'll really like, darlin'" only to end up at some sporting goods supermart in Pennsylvania. Earl did say she could have whatever she wanted in the store, but according to Shirl, all she really wanted was to hang him up on the wall next to the stuffed trout ...
Darryl and Janie's wedding on Saturday was reported to be a very stylish, wonderfully romantic affair. Even the bridesmaids were pleased not to be dressed in pink taffeta or some such other nightmarish nonsense. However, everyone who attended was taken somewhat aback by the best man's toast at the reception. Apparently, Charlie lifted his glass and proclaimed "Darryl, you must be insane 'cause you done got married to my big sister, Jane." His mama was still whacking him upside the head at church Sunday morning ...
Let's not forget Greg's proposal to Lily. Lil said he took her to the fancy restaurant with the tablecloths and candles and you have to dress up nice. ("He wore his silver-toed cowboy boots with his best black jeans, handsome devil.") He had saved up for this night for a long time, she was sure. They had a wonderful meal and when Greg ordered dessert, he asked for two spoons. Well, the waiter brought the chocolate fantasy and sitting right on top, in place of the cherry, was Lily's engagement ring. Unfortunately, when Greg went to propose, he decided to lick the chocolate sauce off the ring first. Something went terribly wrong and after the waiter did that Heimlich thing on Greg, they had to fish the ring out of the sirloin tips of the man sitting a few tables over. Lily said she's half-afraid Greg will take his buddy Bobby Joe's advice on where to go for their honeymoon. At least, she said, she's not related to Charlie. We were quick to point out, though, that Lowell IS Greg's uncle ...
As far as Valentine's Day here in Frogpond, it was rather well-spent. The tadpoles went to Grandma's for the evening, while Daddy Frogpond and I had a nice dinner at one of our favorite restaurants. Then, we went to a movie and shared a popcorn. The only thing that marred our evening was that the tadpoles decided Mama really didn't need ALL that candy and helped themselves to my chocolates while Mama and Daddy were getting ready for the evening. Now, I don't mind sharing, but the littlest tadpole wasn't content with the whole mystery of eating unknown sweets. So, don't mind the nibbles taken out of each piece. At least you can now tell which ones have those icky white centers.