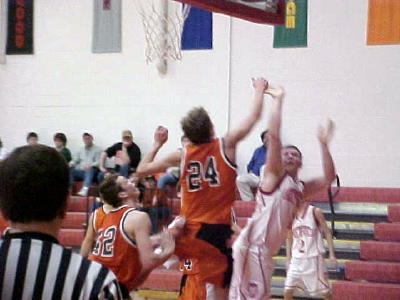 Devils suffer fourth quarter 'swoon'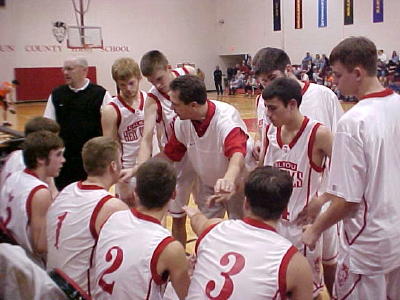 Davis rallies players to another win
By Gaylen Duskey SPORTS EDITOR
Calhoun suffered another fourth quarter swoon Friday night but instead of being all bad news there were a couple of positives.
First, the Red Devils didn't lose.
Despite having the wheels come off the wagon the Red Devils held on for a 64-59 victory over Wirt County, which clinched second place in the LKC Southern Division and a playoff spot opposite Parkersburg Catholic in the Night of Champions.
Second, Jake Perkins kept out of foul trouble long enough to step forward in a big way in the fourth period, scoring 14 of the teams 16 points. Overall Perkins had 23 points and 13 rebounds to lead Calhoun in both categories.
Calhoun has led in the fourth quarter in four of its five losses merely to fritter the lead away. It is something that is puzzling and frustrating to Red Devil coach Tim Davis.
"We tried to give another one away," Davis said. "I don't know what it is but we have had our problems in the fourth period from time to time."
Friday's game was another of those.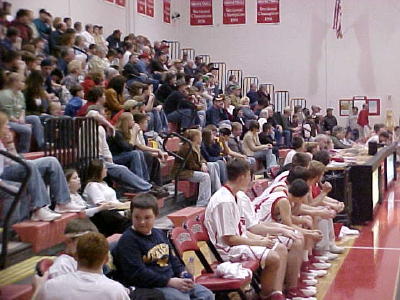 Large crowd attends Calhoun-Wirt game at Mt. Zion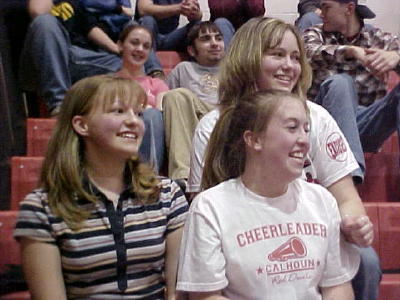 How 'bout them fans who smile
Calhoun led comfortable by 14 at the end of three and a basket by Perkins put the Red Devils up by 16, 50-34.
Then bad things started happening to the Red Devils … from long range.
Wirt had five three point goals in the period with the last one by 6-7 Brandon Frame pulling the Tigers within three, 62-59, with 9.4 seconds to play.
But that was the high water mark for the Tigers as Marcus Davis sealed the victory with a pair of free throws - the only two Calhoun points Perkins did not score in the fourth - with 6.2 seconds remaining.
"Jake was on at the foul line. What's he have something like eight-for-eight? We needed that," Davis said.
Tristan Harris scored the first basket of the game to give Calhoun a 2-0 lead but Frame hammered home a three-pointer giving the Tigers the only lead they would ever have as Perkins and Davis had back-to-back baskets to give Calhoun a 6-3 lead that it would build on the rest of the way … until the fourth quarter, that is.
Calhoun's biggest lead of the game came midway through the third quarter when Mike Batten's three free throws (he was fouled on a three-point goal attempt) put Calhoun up 44-21. From that point on Wirt closed the gap but was unable to close it all the way before the game ended.
"I'm just glad it wasn't a minute longer," Davis said. "The way they were hitting those threes … you never know."
Calhoun needed the win to reach the NOC third-place game since Braxton County upset Gilmer County, 66-61. Had Calhoun lost it would have tied Braxton for second in the LKC Southern Division.
Davis backed Perkins for the Red Devils with 14 points, about half his average.
"He had that Wirt County monkey on his back again tonight," the elder Davis said, alluding to the Tigers' ability to keep the high-scoring Davis in check.
Harris and Chris Sampson both added 10 to the Red Devils cause while Batten had five and Zach Houchin two, but with nine assists. Derek Roberts, Shawn Hillegas and Ryan 'Goob' Fitzwater all played but did not score.
Jared Watson led Wirt, now 5-14, with 15 while Frame and Jonas Phares added 13 each.
Calhoun, now 12-5, will travel to Wahama for a Wednesday night game before going to Parkersburg for the NOC.
Calhoun won the junior varsity game 44-29, rallying from an 18-16 halftime deficit. Tommy Gerwig led the way with 18 while Chad Conley added 15. Tyler Shartiger had five while Victor Carpenter chipped in four and Steven Davis two. Lucas Morford played but did not score.