By Tony Russell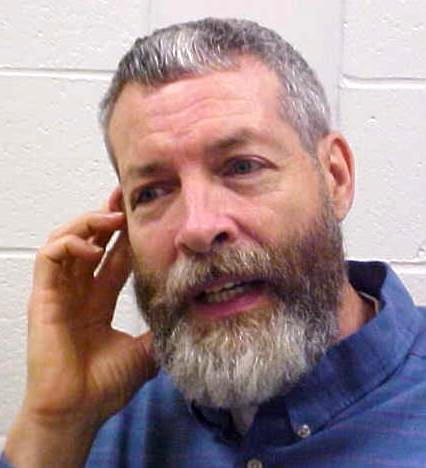 Our Friday night bridge club met at the Cobbs' this week. We pulled into their place at five after eight, and Patty let out a gasp. "What have they done?" she said. She was staring at a bulldozed strip between the parking lot and their gate. Not so much as a blade of grass stuck up from the frozen dirt.
"Webb must have been working on his perimeter defense," I said. "Created a little no-man's land."
"But I loved that patch of woods," lamented Patty. "That pretty little creek, and all the shade where the wildflowers grew in the spring. Spring beauties, violets, trillium, wild irises . ."
We climbed out of the car and headed for the tall block wall surrounding their compound. Searchlights swept the air, and I could hear their guard dogs snarling; the other card players must have got there just ahead of us.
"Have you emptied your pockets?" worried Patty. "You know what happened with Hazel and Ray."
"I checked 'em twice," I said. "How about your purse?"
When we reached their steel gates. Patty grabbed the phone from a niche in the wall, punched in some numbers, and said loudly, "Stella, it's us, Alpha Condor and Beta Zebra. Do you read me?"
"What'd she say?" I asked, when she hung up.
"She said she'd call me back in a minute on a secure line."
A minute later, the phone rang. Patty picked it up. "Okay, Ace," she said when she was finished. "Listen to me carefully for once. The gates will open in thirty seconds. They'll only be open for five seconds, so don't poke along the way you do. Once we're inside, walk directly to the house on the sidewalk. The dogs won't bother you if you stay on the walk. If you step off the walk, on the other hand .." I got the picture.
We made it to the front door and stuck our thumbs in the identification device. I surveyed the house. It sure looked different from the way it had a few years ago. Bars over all the windows. Searchlights mounted on the roof. Gun ports every few feet along the walls.
"Home sweet home," I said.
"Now Ace, don't you start," Patty said warningly.
Just then the door opened. "Ace, Patty, it's so good to see you!" said Stella.
"Would you put your keys, your purse, and any other metal objects on this tray and set it on the conveyor belt," said Webb, as he waved a wand over my person, then did the same to Patty.
"Good to see you too, old buddy," I said. Patty glared and sent a command via marital telepathy: Behave yourself.
"What happened to your arm, Webb?" I asked, staring at the blood-soaked gauze wrapped around his forearm. His face flushed.
"Webb was shoveling the snow off the walk for you all, when he slipped on a patch of ice," Stella said brightly. "He fell off the walk, and one of the dogs went for his throat. But he got his arm up, just in time."
"That looks pretty ugly," said Patty. "Shouldn't you have a doctor check it?"
"I'm afraid we had to drop our health insurance," said Stella. "We just couldn't make the payments anymore. All those electronic gizmos, the electric bill for the searchlights, the food for the Dobermans, the dozer work. it all adds up."
"I'll bet it does," said Patty. "I don't see how you manage to keep it all up."
"Well, you know that bumper sticker," laughed Stella. "We've spent our children's inheritance. Plus all of Webb's retirement. This place is mortgaged to the hilt."
"No health insurance, no retirement, and up to your ears in debt. You must be worried sick," said Patty sympathetically.
"Security comes with a price tag," said Webb.
"Yeah, insecurity," I said.
"How are Hazel and Ray?" asked Patty, trying to change the subject.
There was an awkward silence. Then Webb said, "Officially, we don't know who you're talking about."
"But unofficially," said Stella, "they're doing fine. Hazel's lost twenty-five pounds on the soda crackers and water. She says she'd like for us to hold her until she gets down to a size six. Ray gripes about being awakened every forty-five minutes for interrogation, but you know Ray. He's not happy unless he has something to complain about."
"Why don't you just let them go?" I said. "I know Ray was carrying a pocket knife. But lots of guys do. They're handy. Cut the string on packages, make shavings to start a campfire, all kinds of stuff."
Webb snorted. "So much for your security IQ," he said. "I guess you didn't know they just got back from the Middle East. I have reason to believe he was attending a terrorist training camp."
"But they went with their church group on a tour of the Holy Land," I yelped.
"A dummy organization, set up to funnel funds to terrorists," scoffed Webb.
"Their daughter called me yesterday from Colorado," said Patty. "She's worried sick that she hasn't heard from them for a month."
"Sorry, but we can't release any information on the prisoners," said Webb.
"What about a lawyer?" said Patty? "Shouldn't they be able to talk with somebody?"
"This is a whole new ballgame," said Webb. "In the face of the terrorist menace, all the rules have changed."
"Which rules are those, Webb?" I asked. "The Golden Rule? The rules of hospitality? The Bill of Rights? I thought those were all still in effect."
"Patty," said Stella, "would you mind setting out the bridge mix and plugging in the coffee pot? Otherwise, I'm afraid these men will talk politics all night."