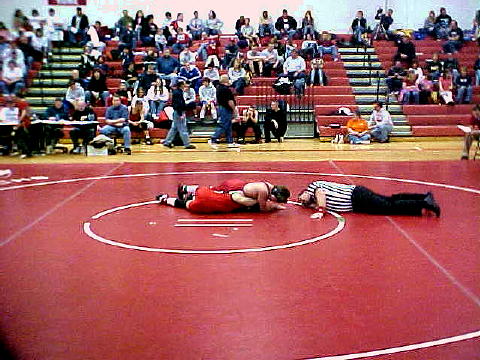 Calhoun's 24th annual invitational was an "If"
By Gaylen Duskey SPORTS EDITOR
There is an old saw that goes: "if 'ifs' and 'buts' were candy and nuts we'd all have a wonderful Christmas."
Saturday it was so true.
"If" Calhoun had a full wrestling squad … but it didn't.
"If" Calhoun had more pins … but it didn't.
"If" all Calhoun wrestlers had made weight … but they didn't.
"If" Calhoun had won a showdown match against Braxton … but it didn't.
"If" there had been more teams to take points away from Braxton County's average wrestlers … but there weren't.
And when all the "ifs" had been counted what had happened was a Braxton County victory in the Calhoun Invitational Tournament as the Eagles nipped the Red Devils by a point and a half, 168-166.5. Just a week earlier the Red Devils had pounded Braxton by 64.5 points in the Braxton Big 16.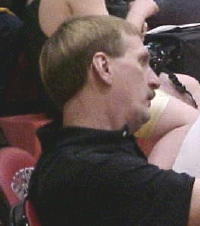 "You can blame us," Calhoun coach Mike Stump (pictured left) said. "We're a pinning team. We win with pins. We get pins in the matches we won then we'd won this thing."
True. Of all the Calhoun champions - and the Red Devils did crown four individual winners - only one won with a pin. Had the others pinned …
Calhoun went into the tournament down two weights. The Red Devils have not had a heavyweight wrestler all season long and Saturday wrestled without a 171 pounder following a practice injury to Dustin Carpenter.
In a sense the Red Devils were down three weights because 103 pounder Bryan Gungle failed to make weight. Gungle would probably have been the wrestler to beat in that weight class and could have given the Red Devils another title.
As it was Calhoun got individual titles from Justin Ashley (130), Andrew Cummings (135), Eric Metz (152) and Paul Goodrich (160). Eddie Burrows (112) and Dustin Price (140) had seconds while Jaron Sampson (119), Justin Ramsey (125) and Dustyn Nichols (145) had thirds.
Metz, now 30-0, was the Most Outstanding Wrestler.
Calhoun returns to action next weekend in the Williamstown Rumble.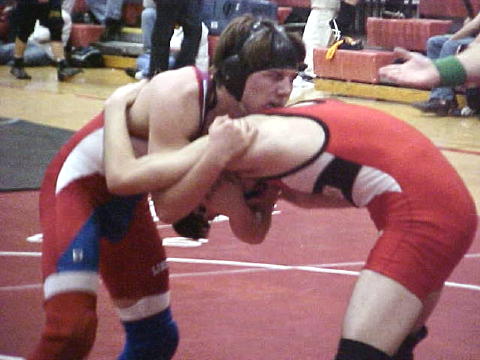 Red Devil wrestler gives his all...