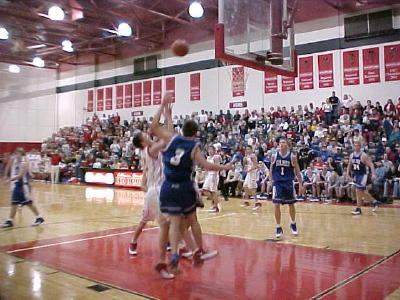 Calhoun goes down before record crowd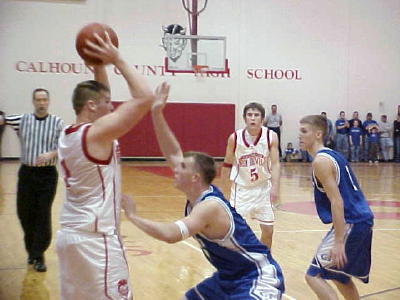 Leading scorer Marcus Davis makes 37 points
Red Devils huddle at start of game
By Gaylen Duskey SPORTS EDITOR
Gilmer County came into Friday night's game against Calhoun County as the top-ranked Class A team in the state. And it showed why as it put three men in double figures and withstood a 37-point effort by Calhoun's Marcus Davis to come away with a 76-65 victory.
While the Titans, 10-1, led virtually all the way they did have to show their mettle in the fourth quarter after Calhoun had pulled ahead by two, 53-51.
And show their mettle they did.
First big Seth Butler (6-8) scored from inside to tie the game then Nick Dent canned a three-pointer to put Gilmer back on top. It was a lead the Titans would never relinquish.
After a basket by Davis pulled Calhoun back within one, 56-55, the Titans went on an 8-0 run to go ahead by nine. Following that Calhoun could never get closer than seven the rest of the way.
"Our guys played hard down the stretch," Gilmer coach Steve Shuff said. Calhoun coach Tim Davis agreed saying the Titans did what they had to do in the fourth quarter.
The game started on an unusual note with six straight three-point baskets. Calhoun scored first on a Davis three-pointer only to have Gilmer answer with three-pointers from Dent and Anthony Reale.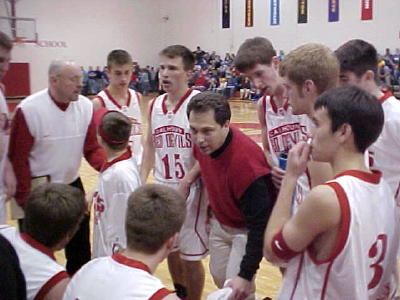 Coach Tim Davis encourages his team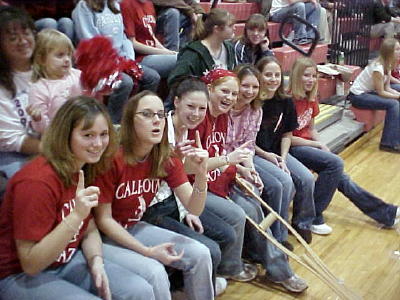 Cheering squad makes lots of noise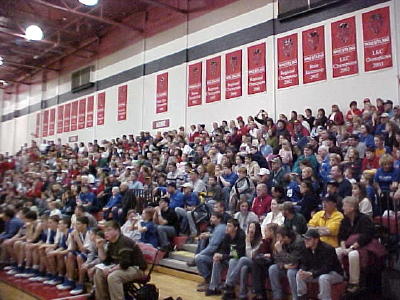 Record crowd turns out to home game
Jake Perkins hit a three-pointer to tie the score at 6-6 then Dent and Davis traded three-pointers to make it 9-9.
But that was when the Titans went on the first of their many runs during the game outscoring the Red Devils 10-1 over the next few minutes to set the tone of things that would continue until the end of the third quarter when Calhoun finally pulled even.
The Red Devils pulled ahead by two on the first play of the fourth quarter only to have Gilmer regain the momentum and pull away the rest of the way.
For Gilmer Dent led the way with 27. Butler followed him with 22 and Reale with 19. Jacob Lilly added four while Aaron Bishop and Richard Ratliff two each.
For Calhoun, now 5-3, Davis led the way with 37 on seven three-pointers, five two-pointers and 6-6 from the free throw line. Jake Perkins followed him with 19 while Ryan 'Goob' Fitzwater and Zach Houchin added three each while Mike Batten and Tristan Harris had two each.
Eric Roberts and Shawn Hillegas played but did not score.
Calhoun now travels to Clay County for a game Wednesday night.
Calhoun won the reserve game 47-40 behind Tommy Gerwig's 33 points.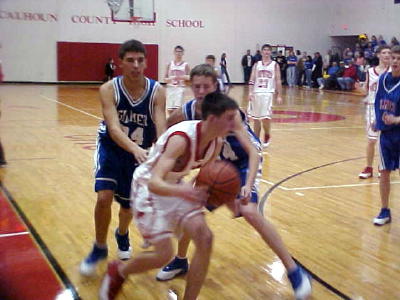 Jr. Varsity action at Mt. Zion Friday night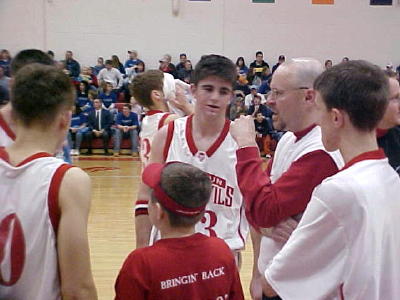 Coach Moore huddles with JV team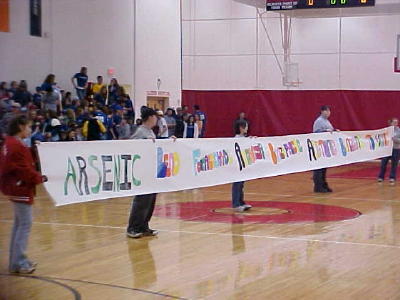 Anti-tobacco group reminds crowd of harmful additives